Freddie Gray case: Police officer charged in case to face new trial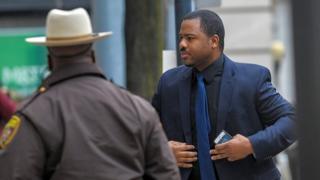 Baltimore prosecutors have decided to hold a second trial for an officer charged in the death of Freddie Gray.
William Porter, one of six police officers accused in Gray's death, will face a new trial in June.
Jurors in the initial trial were unable to agree on all four charges against Mr Porter including manslaughter and reckless endangerment.
Gray's death in April after being in police custody set off weeks of protests and unrest in Baltimore.
Protesters took to the streets last week after the judge in the case declared a mistrial, but the demonstrations remained peaceful.
The mistrial in Mr Porter's case is a setback for prosecutors who had hoped to use him as a witness against the other accused officers. Some of the other officers will go on trial next month.
Some legal analysts had speculated that prosecutors would strike a deal with Mr Porter to obtain his testimony rather than go before another jury.
During the trial, prosecutors said Mr Porter ignored Gray's pleas for medical help and did not belt him into his seat. They described the police van as a coffin on wheels.
A post-mortem report found Gray, who had his hands and feet cuffed, died after suffering a neck injury inside a police van. The van made six stops from the arrest site to the police station, police said.
However, the defence team argued that Mr Porter did not realize severity of Gray's injuries and acted properly and called for help once he did.