Las Vegas Strip crash driver 'faces murder charge'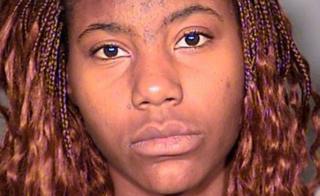 Las Vegas prosecutors say a woman accused of deliberately driving her car into a crowd of pedestrians, killing one, will be charged with murder.
Police said Lakeisha Holloway, 24, from Oregon, drove her vehicle onto a pavement packed with more than 100 people, then fled the scene.
Officials believe the crash on Sunday evening was intentional, but did not discuss Ms Holloway's motive.
Three of the 36 people injured in the crash remain in a critical condition.
On Monday, Clark County Coroner John Fudenberg named the deceased victim of the crash as Jessica Valenzuela, 32, of Buckeye, Arizona, who was visiting the city with her husband.
Ms Holloway's three-year-old daughter who was in the car at the time is said to be "fine" and in the custody of child services.
District Attorney Steve Wolfson said Ms Holloway would initially be charged with murder, adding that charges of attempted murder, child abuse and leaving the scene of an accident would probably follow.
Las Vegas County Sheriff Joe Lombardo said he did not believe the crash to be an act of terrorism, but added that he was "not ruling it out 100%" because of the difficulty in obtaining details about the background of the suspect, who had apparently been living in her car in Las Vegas for a week.
Mr Lombardo said video suggested the crash was an intentional act, adding that Ms Holloway had driven to a hotel and asked a valet to call the emergency services after explaining what had happened.
The Miss Universe beauty pageant was being held in a nearby hotel at the time of the crash.
Five Canadians, as well as a group of university students from Oregon were among those injured.
The car appeared to be travelling between 30-40mph (48kph-64kph) as it hit pedestrians, according to one witness.
"It was just massacring people," Justin Cochrane told the Associated Press news agency.
Another witness said she saw victims "flying through the air."
"The car was like a bowling ball and the human bodies were like pins," Rabia Qureshi told local broadcaster KSNV.
---
Are you in the area? Have you been affected by what has happened? You can share your experience by emailing haveyoursay@bbc.co.uk.
Please include a contact number if you are willing to speak to a BBC journalist. You can also contact us in the following ways: