Canada's 'Fashion Santa' brings dapper cheer and charity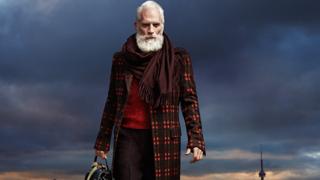 Being Santa is not just reserved for jolly men in red suits with pronounced bellies - now, a "Fashion Santa" is bringing sartorial cheer to Christmas.
The stylish Santa is 51-year-old Toronto model Paul Mason, who is appearing at the city's Yorkdale Mall throughout the holiday season.
Every "selfie" taken with Mr Mason will raise funds for the Hospital for Sick Children, a Canadian charity.
He wears festive designer clothing in a photo shoot with the mall.
The Yorkdale Mall says he has played this role before.
"His crisp white beard, perfectly polished outfits and undeniable charm make him one of our favourite things about the season," the mall writes of "Fashion Santa" on its website. "While you can't add him to your Christmas list this season, he is always up for a selfie!"
For each picture with the hashtag YorkdaleFashionSanta, the mall will donate $1 to the foundation, up to $10,000 (£4,800) total.
According to the hashtag on Twitter, people are enjoying taking photos with "Fashion Santa", calling him "hot" and a "silver fox".