San Bernardino shooting: 'No warning signs' from married attackers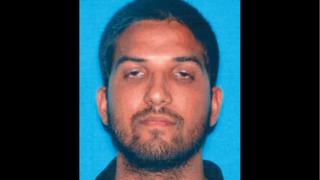 The married couple who shot dead 14 people at a social services centre in California gave no "warning signs", a lawyer for the pair's family said.
"There's so little there to understand or explain what happened or why it happened," David Chesley told CNN.
The suspects - Syed Rizwan Farook, 28, and Tashfeen Malik, 27 - were killed in a shootout with police.
No motive has been established for Wednesday's killings at the Inland Regional Center in San Bernardino.
An FBI investigation is exploring several possibilities, including terrorism, a workplace grudge or a combination of factors.
Farook had been in contact with known Islamic radicals on social media, unnamed US intelligence officials said.
Mr Chesley said the couple's family "never saw any warning signs or any real characteristics that would let them know that any of this was going to take place".
"This was a person who was successful, who had a good job, a good income, a wife and a family. What was he missing in his life?" Nizaam Ali, who attended a local mosque with Farook, told AP.
Farook's brother-in-law Farhan Khan said he was "very upset and angry" with Farook, and had started proceedings to adopt the couple's six-month-old daughter.
"God gave you a gift of a daughter," he told NBC. "And you left that kid behind... What did you achieve?"
---
San Bernardino shooting - in depth
Who carried out shootings? - The couple police say were responsible
What makes this shooting different? - More than one shooter, a woman involved, a well-planned attack, explosives and a fleeing attempt
'It's crazy they lived next door' - Neighbours tell the BBC of their shock that the attackers lived nearby
Politicians 'shamed' for offering prayers - Does prayer do anything in the wake of a shooting?
Who were the victims? - Diverse backgrounds of the 14 people killed
---
Bomb equipment, weapons and thousands of rounds of ammunition were found in the suspects' home, with local police saying it appeared the duo planned on carrying out another assault.
Up to 80 people were inside the social services centre in the city of San Bernardino when the shooting began.
One of the first police responders on the scene described scenes of "unspeakable" carnage.
"The number of people who were injured and unfortunately already dead, and the pure panic on the faces of those individuals that were still in need and needing to be safe," Lt Mike Madden said.
In the shootout with police hours after the attack, officials said Farook and Malik fired 76 rounds of ammunition at the officers and the officers fired 380 rounds back.
Of the 14 people who died, the youngest victim was 26 and the oldest was 60. A further 21 people were injured, including two police officers.
A vigil was held on Thursday for the victims at the San Manuel stadium in downtown San Bernardino, with family and friends of the victims attending.
President Barack Obama said it was possible the attack was terrorism-related but stressed the authorities did not know yet why it had occurred.
San Bernardino is the deadliest mass shooting in the US since 26 people were killed at a school in Newtown, Connecticut in 2012.