Chris Christie receives New Hampshire paper's backing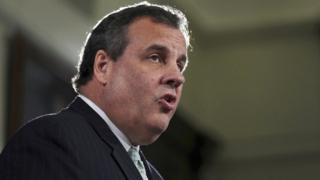 Republican presidential candidate Chris Christie has received the endorsement of an influential New Hampshire paper ahead of the Republican primary there.
The New Hampshire Union Leader says he is "the one candidate who has the range and type of experience the nation desperately needs".
As a former prosecutor, he "is right for these dangerous times", it adds.
The paper's endorsement is a welcome boost for Mr Christie, who has spent much time campaigning in the state.
He is currently in seventh place in New Hampshire with 5.3%, according to the latest Real Clear Politics average.
In an editorial entitled "For our safety, our future: Chris Christie for President", the paper says: "...In just 10 weeks, New Hampshire will make a choice that will profoundly affect our country and the world...
"Chris Christie is a solid, pro-life conservative who has managed to govern in liberal New Jersey, face down the big public unions, and win a second term...
"He has prosecuted terrorists and dealt admirably with major disasters."
The support for Mr Christie is a blow to two other candidates vying for establishment backing and casting themselves as the grown-ups in a field of first-term senators and political neophytes, says the New York Times newspaper.
The New Hampshire paper's endorsement of Senator John McCain in 2008 helped to revive his campaign and he went on to win the Republican nomination.
Thirteen Republicans remain in what is a wide and open race for the right to fight the 2016 presidential election, with Donald Trump leading the polls.
---
2016 runners and riders
Early Republican frontrunner is Jeb Bush has struggled of late
Hillary Clinton will have learnt much from her failed campaign of 2008
New Jersey Governor Chris Christie could battle Bush for the party's centre ground
Texas Senator Ted Cruz is a darling of the Tea Party
Libertarian Rand Paul has his supporters - and enemies - among Republicans
Maryland Governor Martin O'Malley seeks to be a back-up plan for Democrats