US woman kills 38 sheep in drink-driving crash - police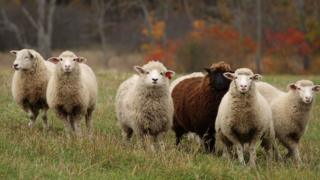 A woman in the US state of Colorado has been charged with drink driving and other offences after her car sped into a flock of sheep that were in the road.
Thirty-eight sheep were killed and 12 others were hurt in the crash.
Police said Lynn Ann Michel, 47, fled the scene on Tuesday in her 2005 Isuzu sport utility vehicle, but her front number plate was left behind.
Officers used the plate to find and arrest Ms Michel. She was released pending a court date.
The incident, which was confirmed by Colorado State Patrol police, happened near the small town of Monte Vista, Colorado, about 220 miles (350km) south of Denver.