Jared Fogle: Ex-Subway spokesman jailed for child porn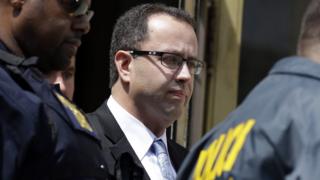 Subway's former spokesman Jared Fogle has been jailed for 15 years for trading child pornography and having sex with underage prostitutes.
Fogle rose to fame when he appeared in the fast-food chain's adverts, after losing more than 200lbs (91kg), in part by eating Subway sandwiches.
US District Court Judge Tanya Walton Pratt told him he was living a double life as she passed sentence.
The father of two had told the court he deeply regretted his actions.
"I so regret that I let so many of you down,'' he said, before sentencing.
"I want to redeem my life. I want to become a good, decent person. I want to rebuild my life."
He pleaded guilty to one count each of travelling to engage in illicit sexual conduct with a minor and distribution and receipt of child pornography.
In the plea deal he struck in the summer, Fogle admitted having sex with two girls aged under 18 at hotels in New York City.