Donald Trump: Iowans stupid to believe Carson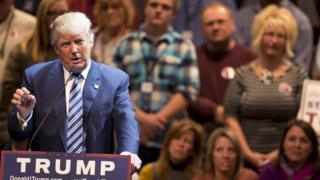 Republican presidential front-runner Donald Trump, never one to mince words, launched some of his sharpest attacks on rival Ben Carson on Thursday night in Iowa.
Addressing supporters at a community centre in Fort Dodge, the New York billionaire gave a 95-minute speech deriding his critics, punctuated with occasional obscenities.
He reserved his harshest words for the retired neurosurgeon who is currently running even with him in many opinion polls - and the Iowans for giving him huge support in the polls.
He said Mr Carson's admission of childhood anger issues revealed an incurable "pathological disease" and compared him to a child molester.
"If you're a child molester, there's no cure," he said. "They can't stop you. Pathological? There's no cure."
He mocked Mr Carson's religious conversion and dismissed the much-publicised story that as a teenager his attempt to stab a relative in the stomach was foiled by a large belt buckle. He displayed his own belt and challenged any members of the audience who had a knife to "try it" on him.
"How stupid are the people of Iowa?" he asked. "How stupid are the people of the country to believe this crap?"
Armstrong Williams, Mr Carson's business manager, told CNN that Mr Carson's response to the attacks was to "pray for him".
"He feels sorry for him because he really likes Mr Trump," he said. "To see him just imploding before our very eyes - it's just sad to watch,"
More fireworks may be in store on Friday, however, as Mr Trump and Mr Carson are scheduled to appear back-to-back late in the day here in Orlando at the Sunshine Summit - a presidential forum hosted by the Florida Republican Party.
It could be a dramatic day from start to finish, in fact, as Florida Senator Marco Rubio leads off the event and is immediately followed by Texas Senator Ted Cruz.
The two candidates traded barbs on Thursday over their record on immigration, with Mr Cruz accusing Mr Rubio of siding with Democrats in the Senate to support amnesty for undocumented workers.
With the first-in-the-nation Iowa caucuses less than 100 days away, and Thanksgiving and Christmas holidays looming, the Republican presidential contest may be approaching a boiling point.
From here on out, the attacks will grow more pointed and, for some, more desperate.
Candidates have been on the campaign trail for months now, nerves are fraying and time is growing short.