San Diego gunman is arrested after long stand-off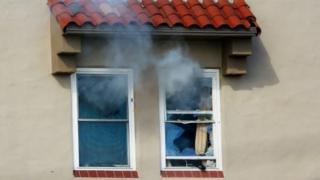 A gunman in the US city of San Diego who opened fire on police and brought air traffic at the international airport to a temporary halt has been taken into custody.
Police say they were involved in a long stand-off with the man - a suspect in an earlier domestic violence incident.
The man was armed with a high-powered rifle, police say.
Tear gas and flash grenades were reported to have been used before he was arrested inside a flat.
Police said armed officers had surrounded the rooftop apartment after the gunman repeatedly shot at them. The stand-off was reported to have lasted five hours.
The threat posed by the gunman was so serious that police shut down roads near the airport and ordered residents not to leave their homes, NBC San Diego reported.
At the same time, the Federal Aviation Administration (FAA) issued a diversion order for flights due to arrive at the city's international airport, located less than two miles away.
Police said such action was necessary because occasional shots were being fired into the approach path used by passenger aircraft.
There have been no reports of any injuries.