Scott Walker calls border wall with Canada a 'legitimate issue'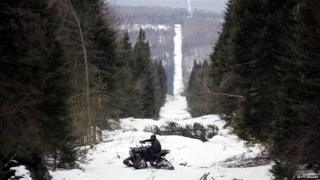 Republican presidential hopeful Scott Walker has called building a wall along the border between the US and Canada a "legitimate issue".
Illegal immigration and the security of the southern border with Mexico have been major issues in the Republican race for president, but the northern border has not been discussed.
Mr Walker made the comments in response to a question from a NBC News reporter.
"That is a legitimate issue for us to look at," he said on Sunday.
At 5,525 miles (8,891km), the US border with Canada is the longest in the world. The border is often referred to as the world's "longest undefended border" although security has tightened since the 11 September 2001 attacks.
Rival presidential contender and Republican frontrunner Donald Trump has called for Mexico to pay to build a border wall with the US.
He has also accused Mexico of sending criminals to the US and has called for revoking the citizenship of children born to illegal immigrants on US soil.
Mr Trump's positions on immigration and border security have put pressure on other candidates to take more aggressive stances on the issue, correspondents say.
Mr Walker, the governor of Wisconsin, has seen his support slip in recent weeks as Mr Trump's poll numbers have increased.
Although Canada is not considered a major source of illegal immigration, some have expressed concerned about terrorism suspects using the Canadian border to enter the US.
"Some people have asked us about that in New Hampshire," Mr Walker said. "They raised some very legitimate concerns, including some law enforcement folks that brought that up to me at one of our town hall meetings about a week-and-a-half ago."
Asked about Mr Walker's comments, Canada's Defence Minister Jason Kenney said the relatively open border was important for trade and Canada would "vigorously oppose any thickening of the border".