Statue of Liberty hoax: Man accused of making bomb threats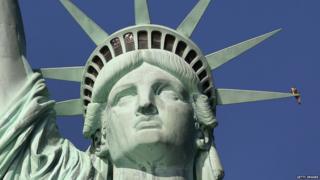 A West Virginia man has been charged with making a fake bomb threat, which led to the evacuation of the Statue of Liberty in April.
The authorities said Jason Paul Smith, 42, told emergency services that he was a "terrorist" and planned to blow up the New York City monument.
He has also been accused of making other calls threatening attacks on Times Square and the Brooklyn Bridge.
The authorities later determined Mr Smith's threats were not credible.
More than 3,000 tourists were evacuated from Liberty Island on 24 April as a precaution after the call was made.
Officials said Mr Smith used an iPad to make the calls to emergency services.
Federal authorities arrested Mr Smith on Wednesday in Lubbock, Texas. He faces up to five years in prison if convicted.