Canada helicopter sex chat heard by Winnipeg public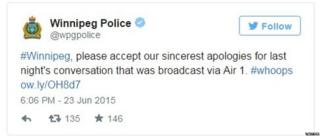 Canadian police have apologised after an explicit conversation was inadvertently broadcast from one of its helicopters.
Whilst on patrol over Winnipeg, the chopper's crew accidentally turned on its loudspeaker allowing members of the public below to hear them.
Those listening say they heard pilots swearing and discussing oral sex.
Winnipeg Police Service say some of the "conversation was inappropriate" and have promised an internal review.
Brandi Armstrong told CBC news that she had been sitting in her garden on Monday evening as the helicopter flew over and was shocked by the exchange.
"My jaw hit the ground; eyes bulged out," she said.
She added that she would like to see the pilots punished. The police say that they are considering disciplinary measures.
Another resident walking near the city's legislature building overhead a different, expletive-laden discussion about money.
The officers were unaware that the loudspeaker was on due to the noise from the helicopter's engine.
Residents listening below began to tweet to the city's police department as the pilots continued talking.