Re-introducing Hillary to America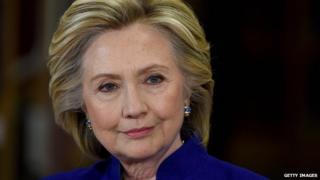 Two months after the soft launch of her presidential campaign, Hillary Clinton is ready for her big-stage re-entry as a candidate with a speech in New York laying out her vision for America and her rationale for running.
A biographical video released on Friday gave a taste of what to expect - a reminder of where she comes from and of her journey as a someone who has fought for children's rights and women's rights, and more generally someone with a middle-class background who, though she is now powerful and rich, can still champion the cause of the "everyday American".
But since her last video in April, when she announced she was running, her approval ratings have fallen and she's got company in the Democratic presidential field. She's also road-tested her campaign machine, however.
After a listening tour with dozens of small round-table events across the US and private fund-raisers, Mrs Clinton will hold a rally on New York's Roosevelt Island - a not-so-subtle shout-out to Franklin Delano Roosevelt, the boldest of Democratic presidents, and the last time that Democrats held on to the White House for more than two terms, albeit in exceptional circumstances.
A Clinton election would be historic not only because she would be the first woman president of the United States, it would achieve the rare feat of keeping the White House within the same party for a third term. (Without endorsing any candidate, President Barack Obama has made clear he will do everything he can to help make that happen.)
But these are not the reasons she's running, though they would be the effect of a victory, said Ellen Tauscher. A seven-term Democratic member of Congress from California who went on to serve in Mrs Clinton's State Department, Tauscher is a strong Clinton supporter.
"Her speech is an opportunity to present the strategic vision for her candidacy, energising the millions who are already behind her, and pulling the base together behind her," Tauscher says. "As always, I hope that she can project the authentic Hillary and her commitment to serving all of the American people once she is elected."
Widely covered controversies over her use of a private email server while at the State Department and the possible conflict of interest from the flow of cash to the Clinton Foundation from foreign donors have led to a drop in Mrs Clinton's favourability ratings to below 50% - the lowest they've been since her 2008 presidential campaign. Her critics say she's so far failed to present a clear rationale for why she is running and appears like royalty awaiting coronation.
Her speech is a chance to focus on the issues again and re-introduce herself to voters on the national stage after four decades in the public eye - as first lady of Arkansas, first lady of the United States, New York senator and secretary of state.
Only in the last role did she really emerge from the shadow of her husband, becoming more Hillary number 1 than Clinton number 2. This is the image she will project on stage on Saturday- her daughter Chelsea and husband Bill will appear alongside her, but she will be the only one to speak.
Unlike her husband, or Mr Obama, Mrs Clinton is not a natural, gifted orator and has always shied away from lofty speeches, preferring more down-to-earth, practical appeals based on a clear action plan.
Mrs Clinton will not lay out all the specifics of her policy in Saturday's speech, and she has yet to make decisions on the biggest policy questions, but she will follow up on key issues with more events throughout the summer.
A campaign aide told the BBC that Mrs Clinton spent the six months following the November midterm elections speaking to policy experts on a number of key issues, including college debt, equal pay and a crumbling infrastructure. Campaign aides fanned out to look into ideas and find policy solutions, delivering some 500 pages of memos for the former secretary of state to read.
After launching her campaign in April, Mrs Clinton heard the other side of the story - the voter's perspective - as she engaged in small round-table conversations in key early-voting states.
She was often pilloried in the media for the staged nature of the events, but the soft launch allowed her to set the pace of her public exposure while getting into the rhythm of the campaign, as her aides laid the foundation for the next year and half of campaigning, including a methodical focus on grass-root efforts across 50 states.
Over the last two months Mrs Clinton also set down policy markers on a number of domestic issues - such as immigration, crime and policing, voting rights and women equity pay - which have broad appeal but also target key demographics, such as Latinos, African-Americans and women.
One of Mrs Clinton's many challenges throughout the campaign, aside from the daunting task of raising more than $1bn (£640m), will be to keep the base energised through a primary season that could appear to most as a pro-forma process. Her closest competitor, socialist Vermont Senator Bernie Sanders, polls 50 points behind her.
"We need to think about how this primary affects the energy of the base and how we sustain the excitement," says Tracy Sefl, who was senior advisor to the Ready for Hillary super-PAC that ran a grass-root effort across the country last year urging Mrs Clinton to run. She remains close to the Clinton campaign.
"We're still 18 months away (from election day)," she adds. But lack of excitement can have an impact on voter turnout in the general election, with consequences as well for the House and Senate races.
Many in the Democratic Party would have preferred there be no challenger, to avoid the costly primary season and pool all the energy and resources into countering the Republican Party.
Another close aide said a sense of inevitability would only hurt her as a candidate, however, so Mrs Clinton has been prompt to welcome the entry of rivals into the Democratic race and has agreed to participate in the six primary debates set by the Democratic National Committee.
In a note her campaign manager Robby Mook sent out, he pointedly describes the field as "competitive" and points out that 72% of Democrats and independents believe that the party is best served by a "robust" primary season.
For now, her speech will need to be robust enough to fire up her supporters.