Three young Burmese boys killed in North Carolina stabbing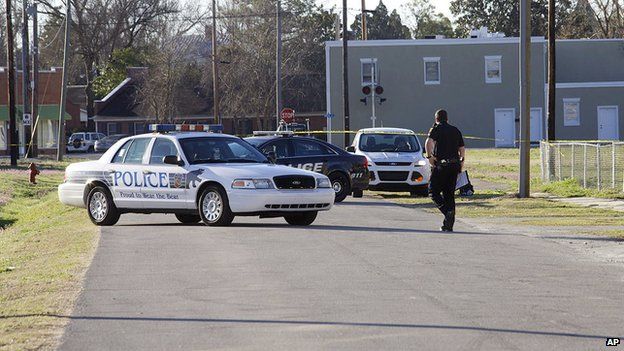 Three brothers aged one, five and 12 are dead after a neighbour attacked them with a knife in their North Carolina home, say police.
The boys' elder sister and mother were also hurt in the attack in New Bern.
Officers have arrested a man, and they say he and the victims are all Burmese, with a language barrier complicating their investigation.
The city of New Bern is home to about 1,900 Burmese refugees, who fled persecution in their home country.
Police say the motive of 18-year-old Eh Lar Doh Htoo's is not yet known, but they have charged him with three counts of murder and assault with a deadly weapon with intent to kill.
Mr Htoo used a "machete-style" knife in the attack, according to local television station WITN.
"Any time this happens in any community, any part of town, it's surprising," said New Bern Police Chief Toussaint Summers Jr.
On Tuesday at about 23:00 local time (03:00GMT Wednesday), police were called to a house where a person was said to be wielding a knife.
Upon entering the home, they discovered that two of the boys had already died. The third boy died later in hospital.
During the attack, the boys' mother jumped from a second-floor window and ran to a nearby house to seek help, neighbours say.
Susan Husson, the executive director of the Interfaith Refugee Ministry in New Bern, said the first Burmese refugees arrived in the city around 1999.
"It's just really hard right now," she said. "It's been really horrific."
Neighbours say that Mr Htoo was a member of the Karen ethnic group. The oppressed group has had their language banned in their home country of Myanmar (also known as Burma).
He is scheduled to appear in court on Friday.