US tycoon Robert Durst 'had revolver and marijuana'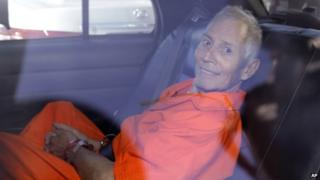 A US millionaire charged with murder in Los Angeles appeared before a judge in New Orleans for a second day, to face new drug and weapons charges.
Authorities say they confiscated more than 4oz (113.3g) of marijuana and a pistol from Robert Durst's hotel room.
His planned extradition to California, in relation to the death of his friend Susan Berman 14 years ago, may now be delayed because of the new charges.
The 71-year-old, long haunted by the accusation, has always denied it.
He was arrested in New Orleans on Saturday, a day before he appeared to make a televised confession.
Appearing in court on Monday, he agreed to be transferred to California to face the murder charge.
On Tuesday he was charged with being a convicted felon in possession of a firearm and a controlled dangerous substance.
Police were seen searching his home in Houston, Texas, on Tuesday afternoon.
He is also suspected - but not charged - in the mysterious disappearance of his first wife in New York state in 1982.
Durst has also been connected to a third death. He was acquitted of murder after killing and dismembering an elderly neighbour in Texas in 2001 - an act, his lawyers said, that was done in self-defence.
In a documentary series about his life that just finished running on American television, he is heard saying that he "killed them all".
The recording was made during a break from filming, when Mr Durst went to the bathroom while wearing an active wireless microphone.
Dick DeGuerin, a lawyer representing Mr Durst, said he believes the arrest warrant "is based on a television show and not on actual fact".
The judge in New Orleans has scheduled another hearing for next Monday.
Mr Durst, who has a personal fortune of several million dollars, hails from a wealthy New York family that is worth about $4b (£2.7b).