Is Robert Durst's 'murder confession' admissible in court?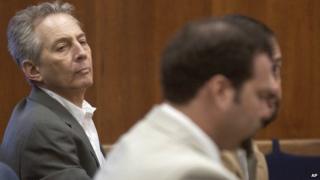 Robert Durst appeared to confess to several killings during the last episode of The Jinx, a documentary about the deaths for which he was a prime suspect.
Audio of Mr Durst saying he "killed them all" was caught on a wireless microphone while he was in the bathroom.
A day before the episode aired, Mr Durst was arrested in New Orleans, Louisiana by FBI agents and charged with murder.
But what does this "confession" mean for his trial?
---
What Mr Durst said to himself in the bathroom
You're caught. You're right, of course. But you can't imagine. Arrest him. I don't know what's in the house. Oh, I want this. What a disaster. He was right. I was wrong. And the burping. I'm having difficulty with the question. What the hell did I do? Killed them all, of course."
---
Is his "confession" admissible as evidence in court?
It's very likely. While defence lawyers will most certainly file a motion to suppress the audio or a written transcript, several criminal law experts said it will probably not pass muster with a judge.
The most likely confessions to be suppressed are those in police custody that appear to be coerced, Erica Zunkel, a professor of law at the University of Chicago says.
But Ms Zunkel said Mr Durst's situation is more difficult because he had already sat down to hundreds of hours of interviews as well as a follow-up - "a defence attorney nightmare situation" - and knew he had a microphone on him, even in a private space.
If Mr Durst had been recorded by a government or police microphone he was unaware of, there might be more leeway, says Silas Wasserstrom, a professor of law at Georgetown University.
But even then, the statement appears to be spontaneous and not coerced - meaning it might still be admissible.
And George Thomas, an evidence expert at the Rutgers University School of Law, says previous case law suggests the expectation of privacy is stronger for being not seen while in the bathroom - there's not necessarily an expectation of not being overheard.
---
Will it make a difference during the trial?
If prosecutors can convince a jury the statement is an honest confession of guilt, Ms Zunkel says, it is a "smoking gun".
But defence lawyers may argue that in context, Mr Durst's remarks are not an actual confession, she says.
They may argue he was speaking sarcastically or something about the context of the interview suggests he was not serious when he said "killed them all".
Mr Wasserstrom says other evidence developed by the documentary makers may do more to secure a conviction - including similarities between handwriting on a letter from Mr Durst to family friend Susan Berman and that on an anonymous note sent to police alerting them to a dead body in the victim's home.
"It seems to be very strong circumstantial evidence case against him," he says, adding the confession alone "would not amount to much" because defence lawyers could explain it away.
---
Why did he agree to the documentary in the first place?
Mr Durst says in the second episode of the documentary he wanted to explain his side of the story after seeing All Good Things, a 2010 film by Andrew Jarecki in which Ryan Gosling plays a fictional version of the millionaire.
And after he was arrested for not heeding a protection order for his brother's house, Mr Durst called Mr Jarecki, the eventual director of the documentary, because he believed a follow-up interview could be used in his defence in court, according to the Washington Post.
---
Have there been other cases of documentaries "solving" murders?
Not in this way. There have been several documentaries post-conviction - including "Serial", a radio podcast that re-examined the death of a Baltimore teenager that allowed new evidence to be used in the case. The Thin Blue Line also led to the exoneration of Randall Dale Adams who had been convicted of killing a police officer.
But while Mr Durst has previously suspected of three murders, he was acquitted of one and never arrested for the other two.
His arrest happened shortly before the airing of the episode, with his defence lawyer going as far as saying the events were co-ordinated.
The interview in question took place in 2012, according to the New York Times, but the audio of the "confession" was not found until two years later in July 2014.
Mr Jarecki told the paper they had "provided the relevant evidence to law enforcement some months ago".
Los Angeles police said the arrest resulted from "investigative leads and additional evidence that has come to light in the last year".
---
What happens next?
Mr Durst has been charged with the murder of Susan Berman and is awaiting extradition to California to that charge, his lawyers say "he's ready to end all the rumour and speculation and have a trial".
But he may be first held on charges in Louisiana.
Prosecutors are also reportedly tying the case to the unsolved disappearance of his first wife, Kathleen, in 1982, and it remains unclear if Texas officials will want to revisit charges in the death of Morris Black.
Mr Durst was acquitted over his death in 2003 after successfully arguing it was self-defence.
---