US moves to deport 150 Bosnians over war crimes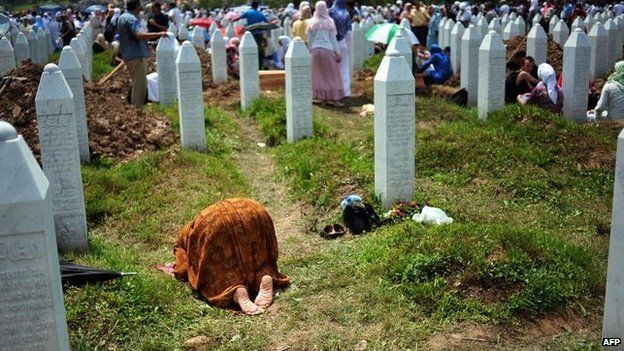 US officials want to deport 150 Bosnian immigrants who they believe to be involved in war crimes during the 1992-95 war, the New York Times reports.
The paper says 300 people are suspected of having concealed wartime activities when they came to the US.
As many as half are said to have had a part in the Srebrenica massacre, where 8,000 Bosnian Muslims died.
More than 120,000 Bosnians sought US visas in the mid-90s, but little effort was made to check their backgrounds.
They were asked to declare military service or other allegiances but the immigration system relied mostly on their honesty, the New York Times adds.
In 2008 the US immigration agency set up a war crimes section which has investigated immigrants from former conflict zones such as Ethiopia and Rwanda.
However, investigators have given the most attention to the Bosnian war.
More than 100,000 people were killed and two million - about half Bosnia's population - displaced in the three-and-a-half-year conflict.
The warring Bosnian Serb, Croat and Muslim forces all carried out attacks on civilians known as "ethnic cleansing", of which the Srebrenica massacre by the Serbs was the worst example.
Investigators told the newspaper that more documents were still coming to light and the final number of suspects could be more than 600.
"The more we dig, the more documents we find," Michael McQueen, an Immigration and Customs Enforcement historian who has led many of the investigations, told the newspaper.
"The idea that the people who did all this damage in Bosnia should have a free pass and a new shot at life is just obscene to me."
The suspects include a metal worker in Ohio and four casino staff in Las Vegas. Sixty-four Balkans immigrants have already been extradited from the US.
But a lawyer for a group of immigrants in Phoenix, Arizona, said the investigations had gone too far.
Christopher Brelje told the New York Times his 12 clients were found to be eligible for deportation simply because they had concealed their service in the Bosnian Serb army.
"These aren't war criminals," he said, insisting that they were combat troops near Srebrenica and not involved in war crimes.