The fugitives standing between the US-Cuba embrace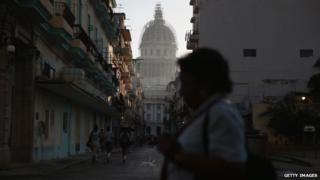 A cold-blooded murder more than 40 years ago, a cinematographic prison escape and a multimillion-dollar reward have become a stumbling block for Cuba and the United States in their quest to normalise their diplomatic relations.
The main character in this story is JoAnne Chesimard. Or, rather, this is what she is called in the US, where she is considered a domestic terrorist. She was convicted of killing a New Jersey state trooper in 1973 during a gun battle.
She prefers to go by the name Assata Shakur. She is the aunt of the late rapper Tupac Shakur and was a member of the Black Liberation Army, an underground organisation that fought for the self-determination of black people in the US.
Chesimard was sentenced to life imprisonment in 1977, but less than two years later three black men armed with automatic pistols seized two guards as hostages at the prison where she was being detained and released her. From there she disappeared off the US radar for a number of years.
She resurfaced in Cuba in 1984, where US authorities believe she has been living under political asylum ever since.
Three decades later, the quest for her return continues.
In 2013, she became the first woman ever to be included on the FBI's list of Most Wanted Terrorists, and a $2m (£1.3m) reward has been offered for information leading to her arrest.
And now, as the two countries seek to establish embassies and normalise their relations, the US has insisted that bringing Chesimard back from Cuba is a "very high priority."
But Assistant Secretary of State Roberta Jacobson has also admitted that she is "frustrated," because she has not been able to make any progress and Cuban officials "are not interested in discussing her return."
This Friday, during the talks that were held in Washington, Ms Jacobson's Cuban counterpart, Josefina Vidal, said that Cuba has "legitimately" granted asylum to a small group of Americans and that these issues "are not open to this kind of discussion".
Cuban officials have described Ms Chesimard as a well-known civil rights activist who fled from legitimate state repression, but for the FBI she is someone who professes a "radical anti-US government ideology."
This clash confirms that Ms Chesimard is the most prominent US fugitive in Cuba, but Republican senators Marco Rubio, David Vitter and Ted Cruz have said that there could be around 70 other high-profile cases.
In a letter they sent to Attorney General Eric Holder, they argued that Cuba has given refuge to "violent criminals" like Victor Manuel Gerena, a member of a Puerto-Rican separatist group accused of bank robbery, and Charles Hill, who is wanted for the killing of a state trooper in New Mexico.
The congressmen added that there are many other cases involving people who have fled after being accused of lesser crimes like money laundering and health-care fraud. Some of them are Cuban immigrants.
Fugitives are not the biggest conflict between the two countries, but they do prevent the US from seeing Cuba as a diplomatic partner, says Teishan Latner, who researches this topic as part of his post-doctorate studies at New York University.
More importantly, they are one of the reasons why the US government has kept Cuba on its list of states that sponsor terrorism - a placement that is now under review.
As it decides whether to leave Cuba on that list, US officials have been under growing pressure to insist on the return of the fugitives.
Cuban-American Senator Robert Menendez, a Democrat from New Jersey, said this week that it is of the "utmost importance" that the State Department raises both the fugitives issue and the terrorism list in the bilateral conversations.
He joined Senators Rubio, Cruz and Vitter in asking US officials for a full list of US fugitives on the island.
And the governor of New Jersey, Republican Chris Christie, has also weighed into the debate by demanding the return of Ms Chesimard before moving forward with the thaw.
Cuba has occasionally returned people accused of crimes in the United States, but has been wary of doing so with the high-level cases.
And it has also reminded the US, as Ms Vidal did, that Washington has given shelter to "dozens and dozens of Cuban citizens, some of them accused of horrible crimes, some accused of terrorism, murder and kidnapping."
In particular, Cuban authorities have asked the United States to extradite a former CIA agent, Luis Posada Carriles, to Venezuela. Mr Carriles, who lives in Florida, is accused by Cuban officials of plotting to kill Fidel Castro and killing 73 people in a bombing of a Cubana de Aviación aeroplane in 1976.
It is unclear whether the US would eventually heed those demands, but for now it continues to insist on Ms Chesimard's return.
As diplomats sit down at the negotiating table, Mr Carriles' and Ms Chesimard's stories are providing a painful echo of the Cold War animosity that has strained the two nations' relationship for decades.