NFL's Adrian Peterson should be reinstated, judge rules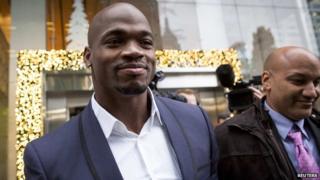 A US federal judge has ruled that NFL running back Adrian Peterson should be reinstated following his suspension for beating his four-year-old son.
The Minnesota Vikings star was suspended without pay by the NFL in November.
His ban came days after he reached a plea bargain with prosecutors over a charge of recklessly assaulting his child.
Peterson had been accused of lashing the young boy with a tree branch.
The incident resulted in cuts and bruises to the boy's back, buttocks, legs and scrotum, local media reported.
He avoided jail after entering a "no contest" plea in court - a legal device used in some US states whereby a defendant neither admits nor denies a charge.
Peterson, 29, was put on probation and fined $4,000 (£2,500).
Following his court appearance, the NFL ordered Peterson's suspension until at least 15 April.
The suspension was based on a new players' conduct policy introduced by league bosses in August last year.
Under that policy, players involved in domestic violence could be banned for up to six games.
But the NFL Players' Association (NFLPA) then filed a lawsuit arguing that the new policy did not apply to Peterson as he assaulted his son before the August rule change.
As a result of this lawsuit, the suspension was overruled by a judge on Thursday.
The executive director of the NFLPA, DeMaurice Smith, said in a statement the decision was a "victory for the rule of law, due process, and fairness".
"This is yet another example why neutral arbitration is good for our players, good for the owners, and good for our game,'' Mr Smith said.
Peterson has expressed some uneasiness about returning to the Vikings, telling ESPN in a recent interview he felt betrayed by the team.