Abid Naseer New York trial shown Bin Laden documents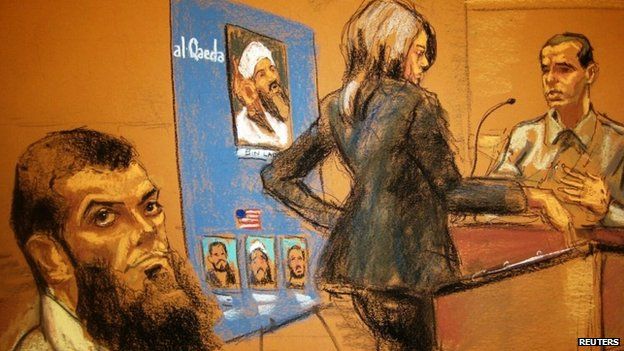 The trial of a Pakistani man accused of plotting bomb attacks in the US and the UK has seen documents seized during the raid on Osama Bin Laden's compound.
The documents referred to planned attacks in Britain, Europe and Russia, a US court heard.
Abid Naseer, 28, stands accused of orchestrating an al-Qaeda conspiracy to attack Manchester and New York.
He has pleaded not guilty to the charges and denied he was involved in any violent extremism.
The documents presented to the New York jury included a letter to Osama Bin Laden outlining planned attacks.
Taken during a US Navy Seal raid on the al-Qaeda chief's Pakistan home in 2011, the papers made no mention of Manchester specifically and did not mention the defendant's name.
In the letter to Bin Laden, the author says "brothers" had been dispatched to Britain, Russia and Europe but that some had been arrested.
"The winds blew against what the ships desire," it noted.
Mr Naseer was extradited to the US from the UK in 2013.
New York prosecutors say he was part of a large al-Qaeda conspiracy to bomb a Manchester shopping centre and the New York subway system.
The defendant, who is representing himself, denies all charges.
On Tuesday, the courtroom heard evidence from British security service agents who were dressed in wigs and make-up to protect their identity.
The MI5 agents tracked Mr Naseer in 2009 as he visited a Manchester shopping centre, the court heard.
Mr Naseer was later arrested in the UK on suspicion of plotting an attack. No explosives were found but he and others were ordered to leave the country.
After avoiding deportation to Pakistan on human rights grounds, he was rearrested in the UK in 2010 and eventually extradited to the US.
Mr Naseer faces life in prison if convicted of the charges against him.