Rahm Emanuel forced into a run-off mayoral election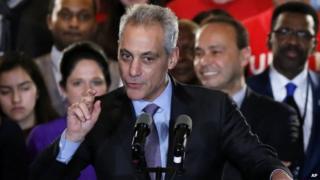 Chicago Mayor Rahm Emanuel has been forced into a tough run-off election after failing to gain 50% of voters in his re-election bid.
Mr Emanuel had 45% of the vote while his main challenger, Jesus "Chuy" Garcia, gained 34%.
Mr Garcia was successful in garnering support from those who have been unhappy with Mr Emanuel's term as mayor, including the teacher's union.
The run-off election will be held on 7 April.
Speaking to supporters on Tuesday night, Mr Emanuel pledged to return to campaigning immediately.
"We will get back out there, talking to our friends and families and neighbours as they make a critical choice about who has the strength, who has the leadership, who has the ideas to move this great city forward," Mr Emanuel said.
"Today, we the people have spoken," Mr Garcia told supporters, some who were already wearing campaign buttons with the run-off date and a cartoon version of Mr Garcia's moustache.
"This city deserves a mayor who will put people first, not big money, special interests," Mr Garcia said on Tuesday. "I will be that mayor."
Both Mr Garcia and Mr Emanuel were already out shaking hands on Wednesday morning at stations on the city's L subway.
Mr Emanuel needed 50% to avoid a run-off, and had fundraised extensively - $16m (£10.3m), more than four times his challengers, over the course of the campaign.
President Barack Obama also endorsed Mr Emanuel, who was Mr Obama's first chief of staff, for re-election.
Mr Garcia, who was born in Mexico and raised in Chicago, is a county commissioner who jumped into the mayor's race in October after another likely candidate, Chicago Teacher's Union President Karen Lewis, was diagnosed with brain cancer.
During the campaign, Mr Garcia and three other challengers criticised Mr Emanuel's push to close dozen of schools and his large fundraising operation.
Joyce Rodgers, who is retired, said she believed the school closures cost the mayor the trust of the city's African-American community. Many in the city's public schools are minorities.
"There is total disappointment," she said. "I believe that Obama's been let down, too, he's just not going to say it."
But others were supportive of Mr Emanuel's efforts to bring more jobs to the city. The mayor campaigned on his record - making a series of tough budget decisions and raising the city's minimum wage.