Shakespeare folios part of huge gift to Princeton University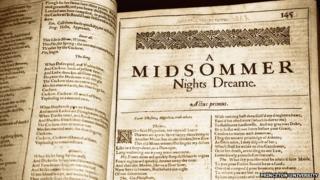 The first six printed editions of the Bible and copies of Shakespeare's first four folios are among a trove of rare books that have been bequeathed to Princeton University.
William Scheide, a philanthropist who died in November, donated more than 2,500 rare books to his alma mater.
The gift - valued at $300m (£194m) - is the university's largest to date.
"There are discoveries to be made in every document and volume," university librarian Karin Trainer said.
The collection also includes the original printing of the US Declaration of Independence and handwritten music by Bach, Mozart, Beethoven, Schubert and Wagner.
Scheide's grandfather William Taylor Scheide, an oil company executive, started the collection in 1865 at the age of 18. His son, John Hinsdale Scheide, continued the collection and built a library in Titusville, Pennsylvania.
William Scheide and his wife Judy McCartin Scheide kept adding to the collection shortly before his death,
"This collection is the fulfilment of the dreams of three generations of Scheide book men," Ms McCartin Scheide said. "He loved showing people - especially young people who had never seen anything like this before - the collection, letting them touch the books and experience what he called 'the wow factor'."