US hosts anti-extremism summit after global terror attacks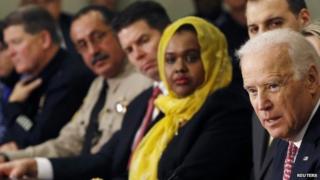 The US has opened a three-day summit on countering violent extremism.
Representatives from around the world are attending the gathering, which follows shooting incidents in Denmark, France and Australia.
Vice President Joe Biden said it was imperative to engage with immigrants who may be radicalised because of marginalisation.
"Societies have to provide an affirmative alternative for immigrant communities," he said.
The vice president said that countries needed to provide "a sense of belonging that discredits the terrorist's appeal to fear, isolation, hatred and resentment".
The White House believes Europe is especially susceptible to terror attacks because immigrants there are often less well integrated into society.
However correspondents say the White House also wants to instil a sense of urgency to counter the threat posed by home-grown terrorism and the radicalisation and recruitment of Americans, especially disaffected young people.
On Wednesday, President Barack Obama will address the White House conference before speaking at the state department on Thursday at a gathering which will be attended by representatives from roughly 60 countries, including Jordan, Egypt, the United Arab Emirates, Kuwait and France.
Home Secretary Theresa May is representing the UK.
The summit takes places following terror attacks in Canada last October, in Australia in December, in France in January and in Denmark this month.
It also takes place amid mounting international concern over the rise of Islamic State in the Middle East.
Mr Biden cited Boston, Los Angeles and Minneapolis as examples of cities which had made progress in countering local extremism.
He said that the objective was to bring together broad coalitions of community leaders in the US so that all Americans - especially Muslims - would feel integrated.
"National security flows from a sense of community," Mr Biden said, while emphasising that the most important lesson the US can learn is that "inclusion counts".
"We haven't always gotten it right," he said, "but we have a lot of experience integrating communities into the American system, the American dream."