Chapel Hill shootings: North Carolina man charged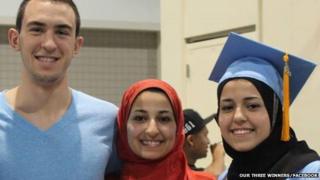 US police in North Carolina have arrested a man after three Muslim students were found dead in their home.
Craig Stephen Hicks, 46, is charged with the triple murder of Deah Barakat, his wife Yusor Mohammad Abu-Salha and her sister Razan Mohammad Abu-Salha.
They were discovered on Tuesday, all with gunshots to their heads.
Police say there had been an ongoing parking dispute but they are still investigating whether the attack was hate-motivated.
The fact that all three University of North Carolina students were Muslims has led to speculation on social media about whether their faith played a role in the shooting.
---
The victims
Deah Barakat, 23, second-year dental student
Yusor Mohammad Abu-Salha, 21, due to start dental studies in autumn
her sister Razan Mohammad Abu-Salha, 19, a second year student
---
The preliminary investigation indicates the crime was motivated by an "ongoing neighbour dispute over parking," Chapel Hill police said in a statement.
There are still questions over what could have motivated Mr Hicks to commit such a senseless and tragic act, Chief Chris Blue said.
"We understand the concerns about the possibility that this was hate-motivated and we will exhaust every lead to determine if that is the case."
---
Online reaction
The hashtag #ChapelHillShooting has been used more than 300,000 times and was trending not only in the US but also in the UK, Egypt, Saudi Arabia and several other Middle Eastern countries. An Arabic hashtag, which translates as 'Chapel Hill Massacre', is also trending with more than 13,000 tweets.
The tag seems to have been started by Abed Ayoub, the legal and policy director of the American-Arab Anti-Discrimination Committee. "Please keep the family of the victims in #ChapelHill in your thoughts and prayers. Senseless violence," was the first tweet.
As the tag spread, he and other users began to put forward the argument the faith of the victims was limiting coverage of the case. "Why hasn't anyone called the #ChapelHillShooting an act of terrorism? Are the victims the wrong religion?" he later tweeted.
The case has now been covered by both national and international media. Mr Hicks expressed atheist views on Facebook, according to reports, but beyond these details little is yet known about what happened.
How North Carolina murders sparked global outrage
---
The bodies were found in an apartment block in the town of Chapel Hill near the University of North Carolina.
Police were called to the scene after reports on Tuesday of gunshots being fired in the area.
Barakat was a second-year graduate dental student at the University of North Carolina, and his wife, Yusor Mohammad Abu-Salha, was scheduled to begin dental studies in the next school year.
Her sister, Razan, attended North Carolina State University as a design student.
Barakat raised money for dental care for Syrian refugees through the Miswak Foundation and had volunteered locally, according to the Washington Post.
The suspect, who is reported to have turned himself in, is being held at Durham County Jail while the investigation continues.
He appeared in court on Wednesday and remains in custody.
The Council on American-Islamic Relations (CAIR), said in a statement that police must quickly address the speculation over motive.
Meanwhile, Abdullah Antepli, director of Muslim affairs at nearby Duke University, issued a statement calling for people not to jump to conclusions over the motive for the killings.