US north-east digs out of heavy snow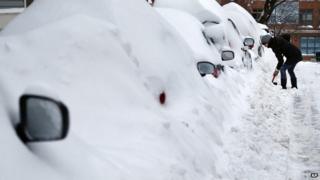 Residents of the US north-east are digging out after up to 36in (91cm) of snow fell in a day-long blizzard.
The storm, which also destroyed part of a seawall and flooded parts of coastal Massachusetts, is being blamed for two deaths in Long Island.
Clean-up is being hindered by freezing temperatures in the coming days forecast to be as low as 10F (-12C).
But New York City and areas south were spared from an earlier prediction of a "potentially historic blizzard".
City officials imposed a driving ban and took the unprecedented step of shutting the subway on Monday evening but less than a foot of snow fell overnight.
Mayor Bill de Blasio denied he had overreacted to warnings, saying he could only go on information available and would rather err on the side of safety
The US National Weather Service (NWS) has admitted its forecasts were wrong, saying the storm moved faster than they expected.
National Weather Service director Louis Uccellini said his agency should have done a better job of communicating the uncertainties in the forecast.
---
At the scene
Gary O'Donoghue, BBC News, Boston
It's clear as we drive through the streets of Boston that things are beginning to get back to normal after the white-out of the last 36 hours. There are people on the streets and traffic - following the lifting of the non-emergency vehicle ban at midnight.
While most public schools are still closed, the Boston transport system is running and the airport is open.
City and State officials believe they have handled this storm as well as they could, and, so far, there have been no reports of injury or loss of life.
There were also far fewer power outages than expected, something put down to lower temperatures which produce lighter, fluffier snow which is less likely to bring down power lines. It's not over though - another 2-3 inches are expected Thursday night.
---
In Massachusetts, heavy snow - falling as fast as four inches an hour - and high winds combined to created blizzard and white-out conditions.
More than 24in of snow coated Boston's Logan Airport, the sixth-highest in recorded history. Worcester got 33.5in, the highest amount recorded since 1905, and Auburn and Lunenburg each reported 36in.
"I had to jump out the window because the door only opens one way," Massachusetts resident Chuck Beliveau said. "I felt like a kid again. When I was a kid, we'd burrow through snow drifts like moles."
More than two feet fell in parts of Maine, Connecticut, New Hampshire and Rhode Island.
Portland, Maine and Providence, Rhode Island both set a daily record for snowfall.
A 110-ft replica of a Revolutionary War ship in Newport, Rhode Island was damaged after the storm flipped it. Wind gusts were as high as 78mph (125km/h)
On Wednesday, Boston's transport system began running again and the first flight since Monday took off from Logan Airport.
But snowploughs struggled to clear the roads, and Boston police drove several dozen doctors and nurses to work at hospitals.
Further south, the eastern tip of Long Island saw as much as 30in of snow.
Police have connected two deaths there with the snow - a 17-year-old who crashed into a lamp post while in an inflatable tube and an 83-year-old with dementia found dead in his backyard.
The storm also caused coastal flooding in Massachusetts. High tides breached a sea wall and damaged 11 homes in Marshfield, 50km (30 miles) south of Boston.
The state's only nuclear power station shut down after the blizzard interrupted its power flow.
Thousands of people are still without power, many of them in Massachusetts.
But Governor Charlie Baker said the snow had been "fluffier and lighter", meaning there were fewer power outages than anticipated.