Assault charges dropped against US football star Hope Solo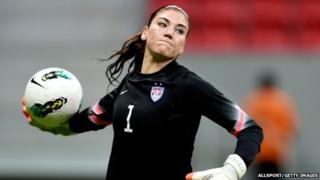 A judge has dismissed domestic violence charges against US women's football star Hope Solo.
Solo, a goalkeeper for the US team and Seattle Reign club, had been charged after an altercation with her half-sister and a teenage nephew in June.
But Judge Michael Lambo in Kirkland, Washington state, dismissed the charges after the alleged victims had failed to answer questions about the case.
Solo, 33, had earlier pleaded not guilty to the charges.
She maintains she acted in self-defence during the incident at a family gathering in Kirkland.
The athlete - who has been playing for the national team since 2000 - has won two Olympic gold medals.
Solo, who has also played in top clubs in Europe, is currently preparing for this summer's Women's World Cup in Canada.