Jerry Brown sworn in for fourth term as California governor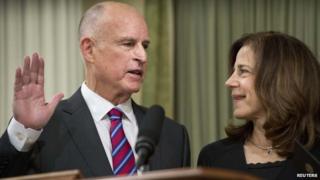 California Governor Jerry Brown has made history after being sworn in for a record-breaking fourth term.
In his inaugural speech, Democrat Mr Brown, 76, outlined ambitious targets for climate change in the most populous US state.
Jerry Brown first served as governor in the 1970s and 80s and returned for another term in 2011.
Since then, he has been widely credited with turning around California's finances.
Mr Brown told the audience at the state Capitol in Sacramento that California was at a crossroads.
"With big and important new programmes now launched and the budget carefully balanced, the challenge is to build for the future, not steal from it," he said.
He called for the state to increase renewable energy use to 50% in the next 15 years.
"We must demonstrate that reducing carbon is compatible with an abundant economy and human wellbeing, he said.
"So far, we have been able to do that."
Jerry Brown defeated Republican challenger Neel Kashkari in November in a landslide re-election victory.
The BBC's Alastair Leithead in Los Angeles says Mr Brown has kept a tight hold on California's finances since he returned to office in 2011.
One of his biggest challenges now is to resist calls among his own Democrats to increase spending and reverse deep post-recession cuts, he adds.