Gay weddings begin in Florida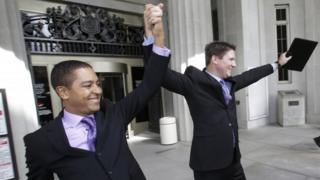 Two same-sex couples have tied the knot in Miami ahead of the lifting of a state-wide ban against gay marriage.
Miami-Dade Circuit Judge Sarah Zabel was greeted with cheers as she ruled that marriage licences could be issued to both couples.
She then presided over the weddings of Cathy Pareto and Karla Arguello, and Jeff and Todd Delmay.
At midnight, a separate federal ruling will take effect, making gay marriage legal in all 67 Florida counties.
That ruling will make Florida the 36th state to allow same-sex marriages, marking the end of a long journey for gay marriage campaigners in the state.
In 2008, voters approved an amendment to Florida's constitution to ban them but in a move mirrored in many other states, judges later ruled that was discriminatory.
'Affective gratification'
An appeal is in place, with Florida Attorney General Pam Bondi arguing the ban should be upheld because it is an issue that states should decide themselves.
Former Florida Governor Jeb Bush, a Republican frontrunner for a possible 2016 White House run, has made a similar point about the supremacy of states' rights on gay marriage.
Others were more unequivocal. In Jacksonville, Duval County Court Clerk Ronnie Fussell closed the courthouse chapel and said no marriage ceremonies could take place.
And the state's Catholic bishops issued a joint statement saying that same-sex marriages put at risk thousands of years of tradition.
"Such a change advances the notion that marriage is only about the affective gratification of consenting adults," the statement said.