Michael Brown: Juror sues to speak out about case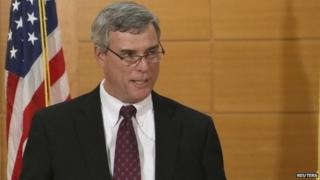 A juror on the panel that declined to charge a Missouri police officer for killing a black teenager has filed a lawsuit to speak out about the case.
The juror wants a federal court to lift the lifetime ban on grand juries talking about their deliberations.
He or she also alleges Prosecutor Robert McCulloch was incorrect in saying all jurors agreed not to charge Ferguson police officer Darren Wilson.
The grand jury decision, after months of deliberations, sparked much unrest.
Michael Brown, 18, was shot and killed by Officer Darren Wilson in August in the St Louis suburb of Ferguson, Missouri.
His death led to nationwide protests over how police treated minority communities.
The complaint, filed on Monday with the help of the American Civil Liberties Union of Missouri, seeks an injunction from the court to allow the juror to discuss the proceedings without fear of being charged.
Mr McCulloch, St Louis County prosecutor, released much of the evidence presented to the grand jury after they declined to charge Mr Wilson. Nine votes from 12 jurors were needed to charge Mr Wilson with a crime.
But the juror, who had served on a grand jury in the months prior to the Wilson case, alleges the presentation of evidence, focus of the evidence and counsel to the jury "differed markedly and in significant ways" from hundreds of previous matters presented.
In interviews with local media after the grand jury decision, Mr McCullough has said grand jurors were aware some witnesses called during proceedings were lying.
"In Plaintiff's view, the current information available about the grand jurors' views is not entirely accurate - especially the implication that all grand jurors believed that there was no support for any charges," the complaint says.
"Moreover, the public characterisation of the grand jurors' view of witnesses and evidence does not accord with Plaintiff's own."
The juror also alleges evidence was presented with the "insinuation that Brown, not Wilson, was the wrongdoer".
Lawyers for the juror say the unique circumstances around the Wilson case should outweigh the prohibition on discussing the grand jury proceedings.
"The First Amendment prevents the state from imposing a lifetime gag order in cases where the prosecuting attorney has purported to be transparent," Tony Rothert, legal director of the ACLU of Missouri, said in a statement.