Five Guantanamo Bay inmates 'resettled' in Kazakhstan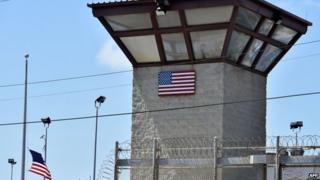 Five men held at the US prison in Guantanamo Bay in Cuba for more than a decade have been sent to Kazakhstan for resettlement, the Pentagon says.
The three Yemenis and two Tunisians had been captured in Pakistan as suspected militants with ties to al-Qaeda.
US officials say the men, who were never charged, no longer pose a threat.
Officials say 28 inmates have been released from the facility this year, the largest number since US President Barack Obama took office in 2009.
It comes as part of the president's push to close the controversial prison, which was opened in the wake of the 9/11 attacks on the US.
Earlier this month, four Afghan detainees were repatriated while another six prisoners were flown to Uruguay.
---
Latest detainees transferred
Asim Thabit Abdullah Al-Khalaqi, 46, Yemeni
Muhammad Ali Husayn Khanayna, 36, Yemeni
Sabri Mohammad al Qurash, 44, Yemeni
Adel Al-Hakeemy, 49, Tunisian
Abdallah Bin Ali al Lufti, 48, Tunisian
---
The latest release brings the Guantanamo prison population down to 127, the Pentagon said in a statement on Tuesday.
The five men were "unanimously approved for transfer" after a review of their cases by an inter-agency task force, it added.
It marks the first time Kazakhstan has taken in Guantanamo Bay prisoners, which senior US officials say followed extensive negotiations.
No reason was given for why the men were not sent to their home countries. However, many detainees cannot be repatriated because their countries of origin are considered unstable or unsafe.
---
Guantanamo Bay in numbers
127 detainees remaining
59 approved for transfer
15 believed to be classified as "high value"
15 freed in December - six sent to Uruguay (pictured), four to Afghanistan and five to Kazakhstan
---
About half of the remaining 127 inmates at Guantanamo Bay have been cleared for transfer.
Correspondents say President Obama's efforts to shut the facility have been slowed in part by resistance in Congress.
The detention centre was opened in 2002 to hold "enemy combatants" in what the US termed its war on terror.