Maryland commutes last four death row sentences to life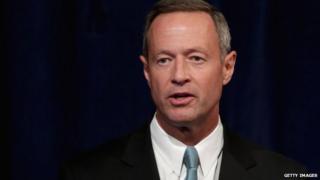 Maryland Governor Martin O'Malley has commuted the sentence of the state's four remaining death row inmates to life in prison.
The state's legislature ended the death penalty in 2012, making the highest sentence life in prison without parole.
Mr O'Malley said executing the remaining inmates "does not serve the public good of the people of Maryland".
He added he had spoken to many of the relatives of those killed by the inmates before making the decision.
The state's outgoing attorney general recently argued during an appeals hearing on one of the cases that it would be illegal for Maryland to carry out death sentences previously handed down because there is no law that allows capital punishment.
"The question at hand is whether any public good is served by allowing these essentially un-executable sentences to stand," Mr O'Malley said.
Failing to act would "needlessly and callously subject survivors, and the people of Maryland, to the ordeal of an endless appeals process".
Capital punishment in the US is at a 20-year low, with 35 people killed by execution across in the US in 2014, down from a high of 98 in 1999.
Of the seven states that performed executions, three of them - Missouri, Texas and Florida - are responsible for the vast majority of executions.
In some states, fewer prosecutors are seeking the death penalty during trial.
Many executions have been put on hold amid difficulties in obtaining lethal injection drugs and several botched executions.
---
US execution by numbers
Currently, 35 US states use lethal injection as the primary method of execution - this includes three states which have stopped handing down the death penalty but still have prisoners on death row
In some states a person sentenced to death may choose an alternative form of execution
Eight US states allow electrocution, three allow the gas chamber, another three allow hanging, two allow the firing squad
The last time an inmate was executed by a means other than lethal injection was in January 2013, when a 42-year-old man was electrocuted in Virginia
Source: The Death Penalty Information Center
---