James Holmes: Parents of Aurora 'gunman' beg for his life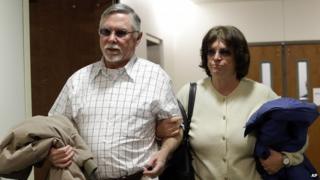 The parents of a man charged with killing 12 in a Colorado theatre massacre have pleaded he be spared the death penalty.
Robert and Arlene Holmes wrote a letter to the Denver Post, saying their son, James Holmes, is "not a monster".
They instead argue Mr Holmes suffers from severe mental illness.
The suspect has pleaded not guilty by reason of insanity to killing 12 and injuring 70 in the 2012 attack at a movie theatre outside Denver.
"We have spent every moment for more than two years thinking about those who were injured, and the families and friends of the deceased who were killed," the couple wrote.
They say Mr Holmes should be treated for mental illness at an institution for the remainder of his life, thus preventing any harm to him or others and avoiding the trauma of a public trial.
"We do not know how many victims of the theatre shooting would like to see our son killed," they add. "But we are aware of people's sentiments."
The letter is the first statement from the couple regarding their son since immediately after the attack. They have not disclosed details of Mr Holmes' mental condition.
He is charged in connection with a mass shooting - one of the worst in American history - at a midnight screening of a Batman film in Aurora.
At the time of the shooting, Mr Holmes was a graduate student in neuroscience at the University of Colorado in Denver, but was withdrawing from his studies after failing a key exam.
Prosecutors have argued he methodically planned the shooting for months, amassing weapons and elaborately booby-trapping his apartment to kill anyone who tried to enter.
"There is no doubt that he knew what he was doing was wrong. There's no doubt it was premeditated," Tom Teves, whose 24-year-old son, Alex, died during the attack while shielding his girlfriend, earlier told the Associated Press news agency.