US swimmer Michael Phelps pleads guilty to drink-driving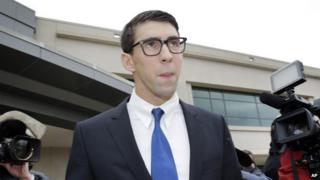 US swimmer Michael Phelps, the most decorated Olympian of all-time, has been given a one-year suspended prison sentence after pleading guilty to drink-driving.
The 18-time Olympic gold medallist was also sentenced to 18 months of supervised probation.
During that time Phelps must totally abstain from drinking alcohol.
The 29-year-old tested at nearly twice the legal alcohol limit when he was arrested in Baltimore in September.
He was initially stopped for speeding after being caught going at 84mph (135km/h) in a 45mph zone.
The swimmer said he had also spent time at the Meadows addiction treatment centre in Arizona.
"During my 45-day programme, I was able to find out a lot about myself that I never knew," he told reporters.
"I'm looking at a much brighter future than I have had in the past," he added.
Phelps retired after winning his 22nd Olympic medal at the London Games in 2012 but came out of retirement earlier this year.
He was given a six-month ban from swimming after his arrest in September, but continues to train.
Mr Phelps, who is from Baltimore County, was previously charged for driving under the influence in Maryland in 2004. He pleaded guilty to driving while impaired in exchange for 18 months' probation.