US judge overturns 1940s conviction of executed boy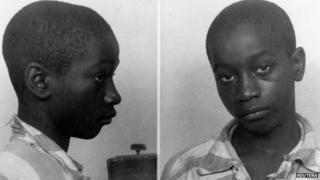 A judge has overturned the conviction of a 14-year-old black boy executed for murder more than 70 years ago.
The young teenager's prosecution for the killing of two white girls in South Carolina was a great injustice, the judge said.
George Stinney was arrested, convicted and executed in 1944 in the space of three months, and with no appeal.
Supporters said his trial was tainted by racism and lack of evidence.
In her ruling, judge Carmen Mullen said that the prosecution at the time had failed to safeguard Stinney's constitutional rights.
The boy was arrested after two girls, aged seven and 11, were found beaten to death a day after they reportedly spoke to him and his sister.
After a search party found the girls, the teenager was reportedly taken from his parents and interrogated without a lawyer.
George Stinney remains the youngest person executed in the US in 100 years.
According to contemporary accounts, Stinney's size - he weighed 95lb (43kg) and stood about 5ft 2in (1.57m) tall - meant he was too small for the straps of the electric chair, and an electrode was too big for his leg.
Reports say he had to sit on a phone book in the electric chair.
Most evidence in the state's case, including Stinney's alleged confession, had been lost over time.
Prosecutors have said that the loss of evidence did not mean it was deliberately destroyed.
The case was brought to renewed public attention in large part by George Frierson, one of George Stinney's most outspoken supporters.
"When I get home, I'm going to get on my knees and thank the Lord Almighty for being so good and making sure justice prevailed,'' he said after hearing of the ruling.
During the 1940s South Carolina was a centre of the southern US states' official segregationist racism, known as the Jim Crow system.