Profile: Alan Gross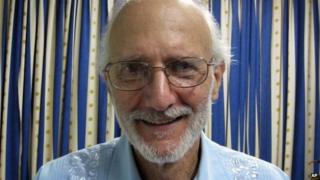 A prisoner in Cuba for five years, Alan Gross was the focal point of tense negotiations between the US and Cuba. Now his release signals a potential thaw in relations between the two countries.
Alan Gross, 65, travelled to Cuba in 2009 as a contractor to US Agency for International Development (USAID), bringing communications equipment, including internet access, to the country's Jewish community groups.
But Cuban officials accused him of fomenting dissent. He was arrested in December 2009 and sentenced two years later to 15 years in prison for "acts against the integrity of the state".
His imprisonment had been a sticking point amid a slow thaw in relations between the US and Cuba, according the BBC's Barbara Plett Usher.
Now Mr Gross has been released as part of prisoner swap and a major shift in America's Cuba policy.
'Suffered tremendously'
A native of the US state of Maryland, Alan Gross spent most of his career working for international development organisations. In 2001, he started his own company devoted to bringing communications and other connections to developing countries.
He had worked on projects in places including the Palestinian territories, Kenya and Gambia. More recently, he helped US agencies and firms with satellite internet access in Iraq and Afghanistan.
But he had limited experience in Cuba and may have caught the attention of authorities after travelling there five times in nine months.
On his last visit, he was arrested and accused of spying for the US.
Two years after his arrest, Mr Gross was formally convicted of setting up internet connections outlawed by Cuba's government in a two-day trial.
Since his imprisonment, Mr Gross has lost more than 100lb (45kg) and seen his health significantly worsen. His lawyer said on Wednesday that he had major hip problems, was blind in one eye, and had lost many teeth.
Several US legislators and former politicians have visited Cuba to press for Mr Gross' release.
And a year ago, Mr Gross pleaded for direct intervention from the US president.
In his letter to Barack Obama, he wrote he had "lost almost everything" and that his family had "suffered tremendously".
One of his two daughters was diagnosed with breast cancer and his mother died during his imprisonment.
"It is clear to me, Mr President, that only with your personal involvement can my release be secured," he wrote.
Mr Gross also went on a hunger strike earlier in 2014. He flew back to the US on Wednesday.