Family of Ohio Walmart shooting victim sues store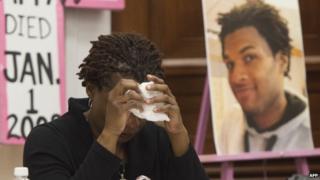 The family of a man fatally shot by police while holding an air gun inside an Ohio Walmart has filed a wrongful death lawsuit against the store.
John Crawford, 22, was killed after a caller reported a man with a gun at the retail chain store.
His family is suing Walmart and police for Crawford's wrongful death.
Surveillance footage shows the black man pick up an unpackaged "BB" gun and walk through the store on the phone before being shot by a white officer.
"All we want is justice," Michael Wright, an attorney for the family, told reporters on Tuesday.
"The criminal justice system refused to hold those accountable so the civil system must."
A grand jury earlier voted not to charge two police officers involved in the shooting.
The lawsuit filed in an Ohio district court names the city of Beavercreek, the officers involved in the shooting and Walmart and seeks more than $75,000 (£48,000) in damages.
Crawford's family allege BB guns at other Walmart locations are packaged with security devices, but the gun in this case was unboxed and lying on a shelf.
Those named in the suit have yet to publicly comment on it.
Crawford's girlfriend, Tasha Thomas, was also reportedly aggressively questioned by police in the wake of the shooting.
According to the Guardian, Ms Thomas was accused of lying and threatened with jail as police demanded to know where Crawford had obtained the BB gun.
It is the latest incident to prompt questions of police conduct in the US.
A 12-year-old boy was shot and killed by police in Cleveland last month while carrying a pellet gun.
And the fatal shooting of an unarmed black man by a white officer in Ferguson, Missouri, sparked widespread protests across the nation in recent weeks.