Where did it go wrong for US Defence Secretary Chuck Hagel?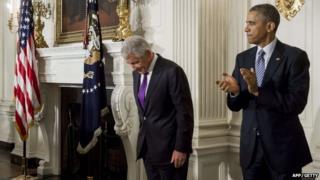 Chuck Hagel, a former enlisted soldier, Vietnam veteran and moderate Republican senator, appeared to be an ideal candidate for the post of defence secretary.
But his less than impressive performance during his confirmation hearings back in February 2013 - he had a decidedly bumpy ride from his fellow senators - was a clear indication of potential problems ahead.
Mr Hagel may not have been fired, but he certainly appears to have been pushed; realising himself before the mid-term congressional elections that his position was becoming increasingly uncomfortable.
In the wake of those elections, with the Republicans ascendant on Capitol Hill, it is clear that the Pentagon and President Barack Obama's foreign policy in general, is going to come under concerted scrutiny from the Republican chairmen of the powerful oversight committees.
The White House appears to have concluded that it needs a stronger, less diffident hand on the tiller.
'Imminent threat'
Mr Hagel is the first casualty of what many of Mr Obama's critics see as a struggling national security policy.
He came on board to oversee the US draw-down in Afghanistan and to manage a defence establishment with a much smaller budget.
But the world has changed since then.
Worsening relations with Russia, the response to the Ebola crisis and above all the rise of the so-called Islamic State (IS) movement in Syria and Iraq have put the defence department in the spotlight.
Mr Hagel often seemed uncomfortable or at variance with aspects of the administration's policies.
Describing the threat from IS in August he said that it was " an imminent threat to every interest we have, whether it's in Iraq or anywhere else… this is beyond anything that we've seen."
This dramatic elevation of the IS challenge seemed to many analysts to be out of proportion to the real threat that the organisation poses.
Withering criticism
Mr Hagel was also known to be uneasy with the administration's focus largely on Iraq, with Syria seen as a secondary front.
Quite apart from being overshadowed by other members of the administration, he was frequently upstaged by the Chairman of the Joint Chiefs of Staff Martin Dempsey who has often spoken out clearly and eloquently very much in the vanguard of stated administration policy.
But if there has been confusion and uncertainty in the administration's approach to IS it is hardly Mr Hagel's fault alone.
Mr Obama's handling of foreign policy has come in for some withering criticism from well-placed analysts.
His own lack of foreign policy experience and lack of a real strategic sense is seen as a large part of the problem.
So too his willingness to make policy in the White House surrounded by a small group of loyal aides.
Mr Hagel may be as much a casualty of Mr Obama's shortcomings as he is of his own.
Chuck Hagel will continue to head the Pentagon until his successor is nominated and confirmed.
Those confirmation hearings promise to provide an opportunity for the President's Republican critics to mount a forensic critique of Mr Obama's approach to the world.