Five surprising things about the US mid-terms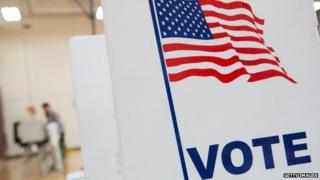 The Republican Party has won control of the US Senate, as was widely predicted. But other results in the mid-term elections defied expectations.
US voters wanted legal marijuana and a higher minimum wage
It was a very good night indeed to be a Republican standing for election, but when it came to ballot initiatives, progressive causes fared well, too.
In Washington DC and Oregon, voters approved measures legalising the possession of small amounts of marijuana for personal use. A similar proposal was on the ballot in Alaska, while a vote permitting medical marijuana in Florida fell just short of the required 60% threshold.
Arkansas, Nebraska and South Dakota - all states dominated by Republicans - voted to raise the minimum wage. Colorado and North Dakota elected Republicans but also rejected anti-abortion measures that would have given "personhood" rights to foetuses.
The mismatch might appear odd in a nation where the so-called culture wars have long marked a key dividing line in politics.
But it's not entirely illogical, according to Kyle Kondik, managing editor of Larry Sabato's Crystal Ball. Raising the minimum wage is a popular cause among voters of all political persuasions, he says.
At the same time, he says, increasing support for marijuana legalisation has accompanied the nation's growing acceptance of gay marriage - perhaps reflecting a growth in libertarian sentiment. "There's definitely more acceptance of some things that would have been taboo in the past," Mr Kondik adds.
A famous name don't always help
For a republic, the US is rather fond of its political dynasties such as the Bushes, Clintons and Kennedys.
Not that this was of much assistance to Jason Carter, grandson of former President Jimmy Carter, who hoped to win Georgia's governorship for the Democrats. In the same state, Michelle Nunn, daughter of former Senator Sam Nunn, lost her bid to follow in his footsteps, too.
Arkansas Senator Mark Pryor was ejected from office despite having been joined on the campaign trail by his father David Pryor, who once held the same seat.
And in Louisiana, Senator Mary Landrieu faces a run-off, despite being the daughter and sister of former and current New Orleans mayors Moon Landrieu and Mitch Landrieu.
Women were big news, but the "war on women" wasn't
For the first time ever, the number of women able to vote in Congress reached triple figures with Democrat Alma Adams's victory in a special election for North Carolina's 12th district.
There were other landmark female candidates, too. Republican Joni Ernst - who boasted of her prowess at castrating pigs in a campaign advert - became the first woman elected statewide to represent Iowa and the first female combat veteran elected to the Senate.
Shelley Moore Capito became West Virginia's first woman senator, Elise Stefanik of New York became the youngest woman ever elected to Congress and Saira Blair, 18, became the nation's youngest state legislator. Gina Raimondo became Rhode Island's first female governor.
All this came despite the fact that the mid-term electorate is, as political analyst Norm Ornstein told the BBC, "older, whiter, maler" than in presidential election years.
But women's issues did not attract the prominence they did in 2012, when Republican senate candidates Todd Akin and Richard Mourdock made widely criticised comments about rape, leading Democrats to claim a "war on women" was being fought.
At the time it was judged one of the party's most effective slogans, but by 2014, its power had diminished. The strategy's most aggressive proponent was Democratic Senator Mark Udall of Colorado, who made his support for women's reproductive rights a centrepiece of his campaign. Not only did Mr Udall lose, but he struggled to win over female voters.
The Democrats' projected gubernatorial gains didn't happen
It was supposed to be the great consolation prize for losing the Senate. According to pundits, the Democrats should have been able to take comfort from the gubernatorial battles.
Before the results came in, Ed Rendell, a former Democratic Pennsylvania governor, spoke optimistically about Republican-held Florida, Wisconsin and Michigan's governorships falling to his party. If that happened, "it'll be a great night for the Democrats", he told the BBC.
Other Republican governors' mansions reputed to be in trouble included the one in Kansas, where the New York Times warned Sam Brownback faced a "fight for political survival". Wisconsin Republican Scott Walker - who had previously faced a recall ballot following his battles with Wisconsin's unions - was also described as vulnerable.
Except it didn't work out like that. All re-elected their Republican chief executives. "The governors' races were the big surprise," says Mr Kondik. Mr Walker became the first governor to win three gubernatorial elections in four years - his first in 2010, the recall, and now 2014.
In fact, the biggest shock of all the gubernatorial races came when Republican Larry Hogan triumphed in Maryland, normally considered a Democratic stronghold.
Being compared to Brad Pitt isn't enough to get you elected
Republican Stewart Mills attracted much attention - not so much for his opposition to the president's 2010 healthcare overhaul or his support for gun rights, as his shoulder-length hair and alleged resemblance to an A-list Hollywood actor.
No less an authority than Politico described him as "the Brad Pitt of the Republican party", a comparison the 42-year-old was not at pains to downplay.
"I guess I don't look like a typical politician," he said in one advert.
It wasn't enough, however, to help him defeat incumbent Rick Nolan in Minnesota's eighth district.
Mr Nolan was re-elected following one of the most expensive races in the country. But the campaign did prove that US politics can be more than just a beauty contest.