Long-serving Boston Mayor Thomas Menino dies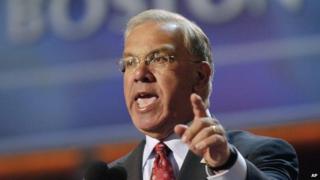 The beloved and longest serving mayor in Boston's history has died at age 71.
Thomas Menino was diagnosed with advanced cancer in February shortly after leaving political office.
The Democrat was elected mayor in 1993 and served for more than 20 years before health problems led him to not seek re-election for a sixth term.
Tributes have poured in. President Barack Obama called him "bold, big-hearted" and Secretary of State John Kerry said: "Tom Menino was Boston."
State Governor Deval Patrick ordered government flags flown at half-staff out of respect for Menino's passing.
The Italian-American ended years of Irish dominance in city politics when he was elected Boston's mayor.
Menino provided leadership and support for city residents following the April 2013 Boston Marathon bombing, and was known for his affable verbal gaffes.
The long-time mayor never sought or demonstrated interest in a higher office, instead focusing his efforts on representing the people of Boston.
"I paid attention to the fundamentals of urban life - clean streets, public safety, good schools, neighbourhood commerce," he wrote in a 2014 memoir.
Menino died surrounded by friends and family on Thursday, just days after announcing he had suspended further treatment and cancelled a tour to promote his new book.