Florida's Puerto Ricans: Ultimate swing voters in the ultimate swing state?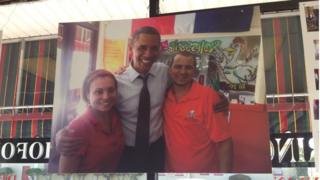 Recently-arrived Puerto Ricans may hold the key to electoral victory in Florida's I-4 corridor, one of the great barometers of US politics. They are key to this year's governor's race and could determine how the state will vote in the 2016 presidential election.
Enrique Vasquez has lost count of how many politicians have visited his restaurant, La Lechonera del Barrio. Even President Barack Obama dropped in to eat pork and beans at this small place in a scruffy Orlando neighbourhood, some distance away from the theme parks that gave the Florida resort city its worldwide fame.
Mr Vasquez is Dominican, but he reckons that 95% of the clientele in the restaurant he manages are Puerto Rican. Many are recent arrivals who fled spiralling crime and economic crisis in the US island territory.
Nearly 300,000 Puerto Ricans now live around the Orlando metropolitan area, where they represent close to 12% of the population.
As Florida prepares to vote next week in the mid-term elections, state candidates who a few years ago would campaign for Cuban votes in Miami's Little Havana now line up for photo-opportunities with Orlando's Puerto Ricans.
These voters might help decide the outcome in this year's tight race for governor between the Republican incumbent, Rick Scott, and the Democratic challenger, Charlie Crist. Many expect them to play an even bigger role in two years, when Florida, could shape the outcome of a national election.
State senator Darren Soto, one of the few Puerto Ricans in the Florida legislature, agrees that his community will be crucial voters in the nation's largest swing state. In fact, he thinks they have already started to play that role.
"In 2008, the Sunday before the election, President Obama held a rally in my district. He could have been anywhere in the country. He chose this area because we are critical and strategic," he tells the BBC.
Orlando's Puerto Ricans are in the right place to become more influential. Political analysts repeat, mantra-like, that the key to elections in Florida lies in the so-called I-4 corridor, named after the highway that bisects the state from east to west, connecting the metropolises of Orlando and Tampa.
To the north lies the more rural and reliably conservative part of the state, to the south, the more urban and Democratic-leaning counties. In the middle, the I-4 corridor, with its explosive population growth, can tip the electoral scale in either direction.
Every year its service-oriented economy attracts thousands of newcomers, many from overseas. But electorally, Puerto Ricans are particularly valuable. They are US citizens and can vote as soon as they move into the state. Moreover, they are not uniformly Democrats or Republicans, so their political allegiance is up for grabs.
Susan McManus, a political science professor at the University of South Florida in Tampa, says that Puerto Ricans relocating to Florida from the US northeast tend to vote Democrat, while many of those arriving directly from the island are likelier to vote Republican.
Given the tiny margins deciding many recent elections in this politically polarised state, whoever captures this vote could have the definitive edge.
But despite their potential influence, many of Orlando's Puerto Ricans do not bother to vote. Some think it comes down to a lack of familiarity with US political culture.
"This year, outreach efforts have been more intense," Prof McManus says. "Some of the campaigning has tapped into the manner in which those campaigns often take place in Puerto Rico, with lots of buses decorated and blaring megaphones on top of them."
Mi Familia Vota is a non-partisan group working to increase Hispanic voter turnout in the Orlando area.
"We have been knocking on doors, making phone calls, sending mail, everything we can do to help Latinos get out and vote," says Jose Luis Marantes, the organisation's state director for Florida.
On a recent Monday afternoon, dozens of his volunteers fan out from their field office into the streets of heavily Hispanic neighbourhoods. They tap into their smartphones to check and update their databases, leave informational pamphlets on doorsteps, and campaign, in English and Spanish, trying to convince local residents of the importance of voting.
Gladys Guzman's family moved from Puerto Rico to Orlando only a year and a half ago. She is eager to help in getting the vote out, but is unsure about how big their impact will be on mobilising the Puerto Rican electorate.
"Some of them say they will vote. Some say they will not."
Back at La Lechonera del Barrio, the Puerto Rican restaurant, a customer gives his name as "TC" as he tucks into his plate of pulled pork, rice, beans and plantain. He has lived in the area since 1994.
About the current election, he says, "I really haven't thought much about it,"
But he does notice politicians are paying more attention to his community.
As the number of Puerto Ricans in Orlando increases, he reasons, "We have to play a big role in the election, because we are everywhere".