Police find man who went missing during Denver NFL game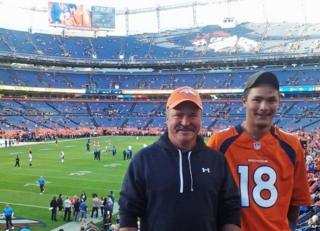 Police have found a man who went missing during a professional football game in Denver on Thursday.
Paul Kitterman, 53, was found in a car park in Pueblo, Colorado, around 161km (100 miles) south of Denver on Tuesday evening.
Denver police tweeted that Mr Kitterman was unharmed and foul play is not suspected.
He told police that he had hitchhiked from Denver to Pueblo because he had "had his fill of football".
A missing persons report was filed when he vanished from the Denver Broncos game leaving behind his stepson.
Jarod Tonneson said his stepfather left his seat at half-time and did not come back.
Mr Kitterman, who had not watched television since his disappearance, said he was surprised at the media attention according to according to local news station Koaa 5.
Pueblo police sergeant Frank Ortega told the station officers were alerted to Mr Kitterman's presence by a local furniture store owner who saw him wandering around a Kmart car park.
Mr Kitterman, who reportedly told police that he liked to walk, spent Tuesday evening in a hotel before his family came to collect him.
Mr Kitterman lives in Kremmling, northwest of Denver. He and Mr Tonneson had been invited to the game - his first NFL match - by friends at the last minute.