Canada shootings and the terrorism debate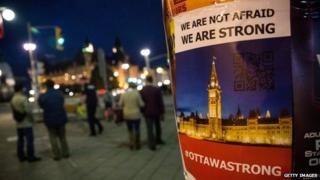 Canada's prime minister has promised to strengthen anti-terror laws in the wake of a gunman's attack on parliament. What is distinctive about the threat Canada has faced, and what is different about the way it tackles violent extremism?
As you step through the front door of Canada's parliament building, the first thing you see is a bullet hole on the floor.
Amid the gothic splendour of the Centre Block, it serves as a jarring reminder of Michael Zehaf-Bibeau's assault on the building.
Soon the parliamentarians who barricaded themselves in offices and meeting rooms during his rampage will vote on "much strengthened" surveillance and detention powers promised by Prime Minister Stephen Harper in the aftermath of the shooting.
But for all the headlines about it representing a loss of national innocence, Canada is hardly a stranger to the threat of political violence.
Nor has its government previously neglected to pass laws aimed at tackling violent extremists. Indeed, just weeks before Zehaf-Bibeau's rampage, ministers unveiled plans to give federal security agencies more powers to track suspects.
As in other Western nations following the attacks of 11 September 2001, Canadian society witnessed fierce debates about the power and scope of the security services, with supporters of new legislation insisting it was necessary to safeguard the public and critics complaining that it trampled on civil liberties.
The Anti-Terrorism Act, passed by the Canadian parliament in December 2001, introduced new powers and penalties designed, in part, to prevent 9/11-style attacks.
It is possible that the most recent violence will again encourage some people "to err more on the side of collective safety", suggests Prof Christian Leuprecht, a security expert at the Royal Military College of Canada. Others will conclude the balance already has been tipped far enough against fundamental freedoms.
Still, Canada has never before experienced a week like this one. The shootings around Parliament Hill came a day after another Muslim convert killed a soldier in Quebec.
Among some Islamist militants, there had at one stage been a sense that Canada - which did not declare war on Iraq in 2003 - was "not a real high-value target", says Fen Osler Hampson, director of the global security and politics programme at the Centre for International Governance Innovation.
Canada's participation in the attacks on Islamic State may have changed this.
Nonetheless, the country has produced a number of potentially deadly terrorist plots.
In 2006, the so-called "Toronto 18" planned to detonate truck bombs around Toronto and take hostages including Prime Minister Stephen Harper, in al-Qaeda-inspired plot. Some 11 men were convicted of terror-related offences.
As recently as 18 September, Hiva Alizadeh was jailed for attempting to organise a jihadist cell in Ottawa. Tunisian Chiheb Esseghaier and Palestinian Raed Jaser are awaiting trial over an alleged plan to derail a train between Toronto and New York.
Others have been involved in overseas terrorism. Since 9/11, dozens of Canadian citizens are thought to have travelled to the Middle East and beyond to join militant groups:
Toronto-born Omar Khadr was captured in Afghanistan in 2002 and held at Guantanamo Bay. He pleaded guilty to killing a US Army medic.
Omar Khadr's father Ahmed Khadr was a prominent supporter of Osama bin Laden
Mohammad Khawaja, from Ottawa, was found guilty in 2008 of participating in a foiled Islamist fertiliser bomb plot.
Ahmed Ressam, who lived in Montreal, was sentenced to 37 years in jail after he was captured crossing the US-Canada border. He had planned to bomb Los Angeles International Airport on New Year's Eve in 2000
There are some recurring characteristics among Canadian Islamists, says Mr Hampson. Compared with their counterparts from other Western counties, they are more likely to be socially marginalised, often unemployed individuals, who often act alone. Many are converts.
"In Canada, Muslims are much better integrated in society and they are much more upwardly mobile for the most part," says Mr Hampson. "They've adopted the identity of being Canadian and being tolerant."
Those who do not stand out.
Canada encountered violent extremism in the years before 9/11 - the Front de Liberation du Quebec was responsible for around 160 violent incidents and eight deaths between 1963 and 1970. But the attacks in New York were the impetus for Canada's Anti-Terrorism Act.
This legislation defined "terrorist activity", created a list of "terrorist entities", and created a number of new criminal offences including for example instructing someone to carry out an attack.
Two temporary measures were also passed - one allowing for preventive detention in some circumstances, another permitting hearings in which a judge could compel someone with information about a possible attack to answer questions before a court. Both expired in 2007 but have subsequently been reinstated.
Further legislation, which came into effect in 2013, makes it illegal to leave Canada, or to attempt to do so, with the intention of carrying out an attack.
Last week, before the attacks, Public Safety Minister Stephen Blaney said the government was preparing to boost the powers of Canada's spy agency, the Canadian Security Intelligence Service (CSIS).
He said the reforms would allow CSIS to monitor suspects when they travel abroad in order to pursue prosecutions, but the specifics of the proposals have not yet been outlined.
The Globe and Mail newspaper reported that government officials were considering whether CSIS should be allowed to use "threat-diminishment" tactics, including "aggressively interviewing" a parent or employer of a young suspect who has not been charged.
On Thursday, Mr Harper said the law must be strengthened "in the area of surveillance, detention and arrest".
It is an issue that will divide opinion. Mr Hampson says that, despite a civil libertarian streak, most Canadians will conclude that "we have to live in the real world".
By contrast, Prof Kent Roach at the University of Toronto, says that the "Canadian offences of leaving Canada to engage in various forms of terrorism actually places Canada ahead of both the UK and the US".
The problem with the law is that it is not being properly enforced, not that it does not go far enough, he believes.
It is a debate that will serve for some time yet as a reminder of Canada's most traumatic week in recent memory. Just like those bullet holes in Parliament Hill.