Ottawa shootings: Canadians ponder a new 'normal'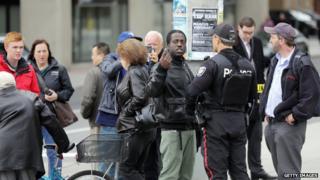 The day after a gunman killed a soldier in Ottawa and went on a rampage through Canada's parliament, the BBC's Barbara Plett Usher finds out how people in the city are reacting.
Wednesday is the day that people do yoga on Parliament Hill.
That image sums up how many Canadians see themselves - internationally, a peaceful, neutral nation; at home, a quiet place with strict gun laws and citizens exercising just metres from where their elected leaders run the country.
So the violence of this particular Wednesday was a shock.
The first reaction was a sort of small-town-like outpouring of solidarity, an emotional session of parliament, and a flood of supportive tweets and messages from Canadians who momentarily put aside their usual political gripes.
Behind that though are questions about whether the country is being targeted for participating in the US-led campaign against Islamic State militants - there was an earlier attack on a soldier this week near Montreal - or whether these are isolated incidents.
People are asking whether any of this will change Canada's easy-going nature.
Some in the Twitter-sphere seemed to think a Rubicon had been crossed.
"Back to work this morning, back to normal… never," tweeted @LindaB0118.
"Canada's going crazy man," agreed @LoganRichards69.
In Quebec, military personnel were advised not to wear their uniforms in public unless on official duty, although it's not clear if that directive extends across the country.
And this morning people hurrying to work said they expected to see more security guards on Parliament Hill, and tighter access restrictions.
"Certainly they are going to harden up this perimeter," said architect Peter Dolan, who spent yesterday in lockdown across the street from the main parliament building.
"We've kept it open here quite consciously, we're aware of the risks and the dangers, but the value of democracy and openness is much more important."
The value of democracy was also uppermost in the mind of Liberal MP Wayne Easter when it came to enhancing police powers of surveillance and detention.
"You can't legislate out of fear," he said, referring to a pledge by Prime Minister Stephen Harper to speed up an existing plan to give Canada's spy agency more monitoring muscle.
"You've got to legislate wisely," Mr Easter added. "And there has to be a balance between national security and public safety and that's always one of the dilemmas."
There seemed to be more unease than outright fear - a sense that Canada couldn't remain completely immune to terrorist attacks, an acknowledgement that not all of its previous overseas adventures had been peacekeeping.
"We've been involved in Afghanistan and international operations in the past so I don't think this is any change from that," said Nigel Thalakada, a policy analyst with the government.
"It's disrupted a sense of normalcy but… I don't really see an over-reaction to these events, I think people will take it in their stride."
Anecdotally, there seemed to be a general feeling that whatever the immediate reaction, the calm sensibility at the heart of the Canadian character would prevail.