Canadian media urge calm response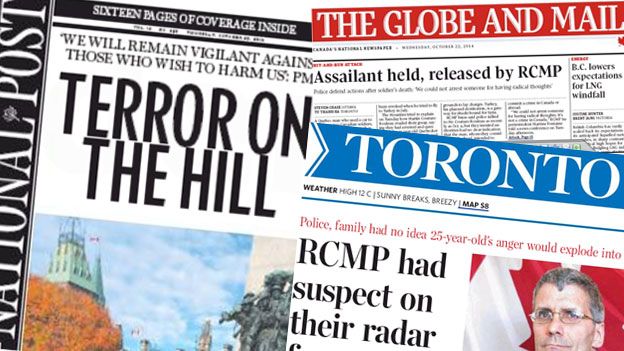 Canadian media commentators have expressed shock that a relatively peaceful country could be the target of two back-to-back terrorist attacks, after two soldiers were killed in separate incidents by suspected Muslim converts inspired by militants.
Home-grown terrorism is a real threat, the writers say, but they argue that societal values of openness and tolerance should not be changed.
"As if one were needed, the tragic events in Saint-Jean-sur-Richelieu [in the province of Quebec] and Ottawa came as a brutal reminder that no democracy is immune to terrorism, even those that feel the least threatened," says Michel David in Montreal's Le Devoir.
Wark says that the "threat focus" has been wrong, and counterterrorism work needs to focus on home-grown terrorism rather than trying to prevent Canadians from going to fight jihad overseas. Reports say that the parliament attacker was known to police and had had his passport taken away.
While Canadian Prime Minister Stephen Harper has vowed publicly that Canada will "never be intimidated" by terrorist attacks, Andrew Coyne in The National Post takes a slightly different view, admitting that the Ottawa attack has shaken up the nation.
"All it took was one shooter, maybe two, to lock down the entire government of Canada, and half of downtown Ottawa with it - along with embassies, Canadian Forces bases, and legislatures across the country. We are not used to this, in this country. It doesn't take much to send us scattering, to shatter our routines, to make us fear and doubt."
And as Canada prepares to join the US-led bombing campaign against the militant group Islamic State, commentator Ian MacLeod in The Ottawa Citizen says the city is now in "the cross-hairs" and it "has now experienced the frightening cost of being a G8 capital in the age of Islamic terrorism".
Commentators heap praise on Kevin Vickers, the parliamentary sergeant-at-arms who shot the attacker, with many calling him a hero.
Some also claim him as a symbol of the way Canadians should adapt to the new phenomenon of home-grown terrorism, pointing out that Mr Vickers has a reputation for tolerant views, having supported the right of Sikhs to wear ceremonial daggers in the House of Commons.
"Mr Vickers is the reason why terrorism doesn't have a chance in this country," says Margaret Wente in The Globe and Mail. "He has made a career of reaching out to Muslims, Sikhs, First Nations, and others who haven't always been included in this country."
The Ottawa Citizen's editorial frames a question that preoccupies many commentators. "Will we let someone else's hatred foment our own, or will we continue down the path of a noble, decent and tolerant society that values - that doesn't fear - differences?" It concludes that "most Canadians will react with grace, good sense and purpose. We will argue about what to do next, but we will work to find the right balance."
Pierre Jury in Ottawa's Le Droit agrees that a sense of openness should remain at public buildings and monuments, saying that "democracy thrives on its public accessibility". But he also cautions that "at the same time it should not be a welcome mat for people of malicious intent. The world has changed, not always for the better, and a security review must be carried out".
Andrew Coyne in The National Post says Canadians may have to get used to accommodating a certain amount of risk in their cities, just as Londoners adapted during the IRA years. "We cannot stop every attack, and we shouldn't try - not only for the astronomic monetary cost entailed, but more for the cost to our national spirit. The risk that any one of us will be killed approaches zero, but the risk that some of us will be approaches a certainty. Very well: let us brace ourselves to it, and adapt."
Wesley Wark in The Globe and Mail agrees, saying that "Democratic societies must not get bent out of shape - restoration of normalcy and confidence that ordinary life can continue is key to moving forward."
BBC Monitoring reports and analyses news from TV, radio, web and print media around the world. For more reports from BBC Monitoring, click here. You can follow BBC Monitoring on Twitter and Facebook.