Ebola crisis: Alert in US expands to Ohio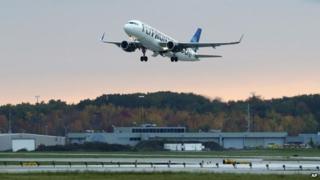 Health officials in the US believe a nurse infected with Ebola may have been sick and contagious for four days - and took two flights - before diagnosis.
They believe Amber Vinson may have become ill as early as last Friday, when she flew from Dallas to Ohio.
Disease control specialists are being sent to Ohio to help monitor people she came into contact with there.
The virus has killed more than 4,000 people, almost all in West Africa, but infections are increasing in the West.
Former UN Secretary General Kofi Annan has said he is "bitterly disappointed" with the international response.
In an interview with the BBC's Newsnight programme, Mr Annan said richer countries should have moved faster.
His comments came after the World Health Organization said it would "ramp up" efforts to prevent Ebola spreading beyond the region most affected by the deadly virus.
For the second day running, US President Barack Obama met with top officials involved in the Ebola containment in the US.
He repeated his resistance to growing demands from Republicans to implement a travel ban to the US from countries ravaged by the illness, saying it would not be effective.
And referring to Ms Vinson, he said: "It is very important that we are monitoring and tracking anyone who was in close proximity to this second nurse."
She is the second nurse to have become infected while caring for a Liberian Ebola patient in Dallas.
The Centers for Disease Control and Prevention (CDC) now believes Ms Vinson may have had a slight fever when she travelled home to Cleveland, Ohio, last Friday.
The agency wants to interview passengers on her Dallas to Cleveland flight as well as her return flight five days later.
She was diagnosed with Ebola on Tuesday, the morning after flying home to Texas.
---
Can you catch Ebola on a plane?
The CDC says the risk to "any around that individual on the plane would have been extremely low".
This is because the virus is not airborne like flu.
Anyone on the same flight as a patient would not be at risk from breathing in the same cabin air.
And it's extremely unlikely that someone would catch Ebola from an armrest, a touchscreen television, or a tray.
---
Her movements in Cleveland have been tracked to see who she came into contact with - two schools and a bridal shop were closed as a precaution.
CDC boss Tom Frieden faced hard questions from members of Congress on Thursday about how the nurses became infected while caring for Duncan.
He said the investigation is ongoing, but a national nurses' union has suggested infection control procedures were lacking and the nurses were not sufficiently trained.
After meeting his advisers, Mr Obama repeated his belief that the disease needs to be tackled at source.
He has authorised the calling-up of National Guard troops and reserves, if necessary, to fight the spread of Ebola in West Africa.
Nearly 4,000 US troops are being sent to the region to assist in containing the virus, mainly by building treatment units.
The president also said he was open to appointing someone to head the Ebola response in the US, a so-called czar.
Earlier, the top doctor at the beleaguered Dallas hospital apologised for its failure to diagnose Mr Duncan sooner.
Both nurses who became infected treating Mr Duncan have been moved to specialist units for further treatment.
Nina Pham is reportedly in a good condition and has been transferred to the National Institutes of Health in the US state of Maryland.
Well-wishers gathered outside the hospital in Dallas to show their support as her ambulance left the building.
Ms Vinson was sent to Emory University Hospital in Atlanta on Wednesday.
Like several other Western countries, the US is now screening passengers arriving from the three countries most affected - Liberia, Sierra Leone and Guinea - at multiple airports.