Ebola crisis: Hospital official 'sorry for mistakes'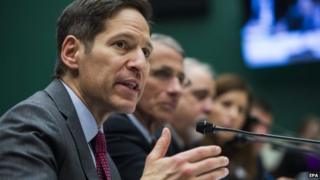 The top doctor at the Texas hospital where an Ebola patient infected two nurses before dying has apologised for its failure to diagnose him promptly.
Dr Daniel Varga of Texas Health Presbyterian Hospital told a congressional panel it remained unclear how the nurses caught the disease.
Congressmen are questioning public health officials about the threat of an Ebola outbreak in the US.
The epidemic has killed more than 4,000 people, almost all in West Africa.
The World Health Organization (WHO) has said it will "ramp up" efforts to prevent Ebola spreading beyond the three countries most affected by the deadly virus - Guinea, Liberia and Sierra Leone.
Fifteen African countries are being prioritised, top WHO official Isabelle Nuttall told a news conference in Geneva. They will receive more help in areas including prevention and protection.
Also on Thursday, US President Barack Obama authorised the calling-up of National Guard troops and reserves, if necessary, to fight the spread of Ebola.
Nearly 4,000 US troops are being sent to West Africa to assist in containing the virus, mainly by building treatment units.
---
At the scene: Laura Trevelyan, Dallas, Texas
At Dallas-Fort Worth Airport, a young couple embrace in arrivals and leave for the city centre discussing the case of Nina Pham, the Dallas nurse infected with Ebola who cared for Thomas Eric Duncan. How could it happen here, they ask in wonder.
There's a pervasive sense of unease about the Ebola virus in the midst of this prosperous city. Three schools have closed temporarily because two of the pupils were on the same flight as nurse Amber Vinson on Monday night - she has become the second nurse to contract Ebola from Duncan and the CDC want to trace all 132 people on the plane.
And faith in Texas Health Presbyterian Hospital Dallas has been shaken - this prestigious institution, favoured by the wealthy of Dallas for their healthcare, has had to apologise for failing to diagnose Ebola symptoms in Mr Duncan.
A hospital nurse told NBC News this morning she could no longer defend the hospital at all.
---
In Washington DC on Thursday, a panel of the House of Representatives energy and commerce committee questioned senior public health officials about the threat of Ebola to the US.
Witnesses included Centers for Disease Control and Prevention (CDC) director Dr Thomas Frieden, Dr Anthony Fauci, director of the National Institute of Allergy and Infectious Diseases, and Dr Varga, chief clinical officer at Texas Health Resources, the parent company of Texas Health Presbyterian Hospital in Dallas.
In prepared testimony, Dr Varga acknowledged medical staff at Texas Health Presbyterian Hospital erred in sending Duncan home after he arrived on 25 September with a fever, despite him telling them he had come from Liberia.
Duncan returned to hospital on 28 September, was officially diagnosed with Ebola two days later, and died on 8 October.
Dr Varga said: "We did not correctly diagnose his symptoms as those of Ebola. We are deeply sorry."
The hearing came a day after a second nurse who treated Liberian national Thomas Eric Duncan, Amber Vinson, was diagnosed with Ebola.
It's unclear how her and the other nurse, Nina Pham, contracted the virus while using protective clothing. Ebola.
A national nurses' union has suggested infection control procedures were lacking and the nurses were not sufficiently trained.
Dr Varga admitted under questioning his hospital's staff had received information about Ebola response but had no training before Duncan's arrival.
The CDC has come under fire for allowing Ms Vinson to fly on a commercial aeroplane to Dallas from Cleveland, Ohio, the day before she fell ill with Ebola.
Dr Frieden on Thursday said, "My understanding is she reported no symptoms."
Nina Pham is reportedly in a good condition and is being transferred to the National Institutes of Health in the US state of Maryland.
Senior Republican congressmen on the panel called for a travel ban from what one described as the Ebola "hot zones".
They rejected public health officials' insistence that such a move would only isolate the affected countries and hinder efforts to stanch the outbreak there.
---
New US Ebola control measures
A "site manager" will supervise how workers at the Texas Health Presbyterian Hospital put on and take off protective clothing
Two nurses from Emory University Hospital in Atlanta will offer "enhanced training" in Dallas
An immediate response team will travel to the site of any future Ebola diagnoses to hit the ground "within hours"
New guidelines for testing at hospitals throughout the US, with special emphasis on asking questions about travel history
---
Duncan was not symptomatic when he arrived in Dallas from Liberia in September, but reportedly failed to tell authorities prior to his departure that he had had contact with an Ebola patient.
The US is now screening passengers arriving from the three countries most affected - Liberia, Sierra Leone and Guinea - at multiple airports.
On Wednesday, Mr Obama said the risk of Americans getting the virus was still "extremely low", but ordered "much more aggressive response", including increased CDC involvement.
In other developments on Thursday:
A Spanish healthcare worker, who came into contact with a nurse already infected, is being tested for the virus
An Air France passenger with a high fever, reportedly from Nigeria, is to be examined in hospital for Ebola symptoms after arriving in Madrid from Paris
UN Secretary-General Ban Ki-moon said just $100,000 dollars had been given to a UN Ebola trust fund which needed $1bn
World Bank President Jim Yong Kim warned against imposing "travel restrictions on the whole world"