Melchert-Dinkel gets half-year in jail over web suicides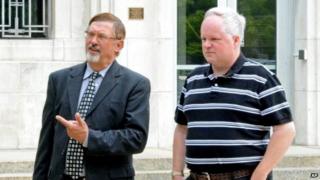 A former US nurse who sought out suicidal people online and encouraged them to kill themselves has been ordered to spend 178 days in jail.
William Melchert-Dinkel, 52, was convicted in the US state of Minnesota in September of assisting in the suicide of a Coventry, England man and attempting to assist a Canadian woman.
He received a five year prison sentence but will not serve it if he complies with probation conditions.
His lawyer said he planned to appeal.
In court on Wednesday, Melchert-Dinkel told the judge he was sorry for his actions.
In September, Rice County District Judge Thomas Neuville ruled that Melchert-Dinkel had assisted in the suicide of Mark Drybrough, 32, of Coventry, England.
But he found the state had failed to prove he had done the same in the death of Nadia Kajouji, 18, of Brampton, Ontario, instead convicting Melchert-Dinkel of a lesser charge of attempting to help her take her life.
It was the second time Melchert-Dinkel was tried in the deaths.
In 2011 he was convicted under a law that made it illegal to "advise" or "encourage" suicides.
But in March 2014, the Minnesota Supreme Court ruled the law amounted to an unconstitutional restriction on speech.
The state tried him again, this time under a separate part of the law making it crime to "assist" in a suicide if the speech is targeted at one person and provides someone with advice needed to kill him or herself.
Judge Neuville previously sentenced Melchert-Dinkel to 320 days in prison, as well as requiring him to return to jail on the anniversaries of Drybrough's and Kajouji's deaths for 10 years.
The punishment was vacated by the March state Supreme Court ruling.
Prosecutors say the former nurse was obsessed with suicide and sought out depressed people online.
He posed as a female nurse, offering compassion and step-by-step instructions on how to take their own lives.
Melchert-Dinkel acknowledged having taken part in online chats about suicide with up to 20 people and entering into fake suicide pacts with about 10, five of whom he believed killed themselves.
The investigation began in March 2008 when a woman in Wiltshire in the UK alerted Minnesota police that a person had been encouraging people to take their own lives on an internet forum.
After Drybrough's death, police in Britain and the US sifted through his computer and determined he had sought advice online and that a person they later identified as Melchert-Dinkel had given him technical advice on how to hang himself, prosecutors said.
Investigators in Minnesota and Canada also determined Melchert-Dinkel had entered into a suicide pact with Kajouji, whose body was later found in a river.