US 'hid Iraq chemical weapons incidents'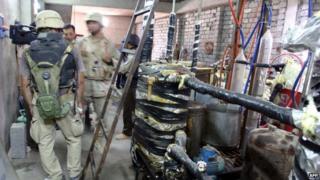 US troops and Iraqi police were wounded by exposure to abandoned chemical weapons in 2004-11 in a series of incidents largely kept quiet by the Pentagon, a US newspaper has reported.
The New York Times said the weapons were built by Saddam Hussein's regime during the 1980s Iran-Iraq war.
Soldiers and police uncovered about 5,000 warheads, shells or bombs.
The Times based its report on dozens of pages of classified documents, and interviews with soldiers and officials.
The newspaper tracked down 17 US soldiers and seven Iraqi police officers who said they had been wounded during at least six separate incidents.
Some of the weapons were reportedly designed in the US and manufactured in Europe.
They were filled with chemical agents produced in Iraq from ingredients purchased in some cases in the US.
In a statement to the BBC, Pentagon spokesman Rear Adm John Kirby said Defence Secretary Chuck Hagel was "concerned by any indication or allegation that our troops have not received the care and administrative support they deserve" and had ordered a review of the military's health system and the military awards programme.
"While we cannot speak to individual decisions made by unit commanders or medical staff at the time - or the guidance they may have given their troops about the existence of chemical munitions in Iraq - the defence department made public its discovery of these munitions as far back as 2006 and acknowledged the likelihood that more could be found," Adm Kirby said.
The chemical weapons were produced by Saddam for use against Iranian forces during the Iran-Iraq War of the 1980s.
Saddam's forces also deployed chemical weapons against the Kurdish population in Halabja in eastern Iraq.
Much of Hussein's chemical arsenal was destroyed following the Gulf War of 1991.
But thousands of rounds were buried or secreted away until US troops stumbled upon them after 2003.
Some of the US soldiers' finds were poorly documented.
In some cases, soldiers destroyed the chemical munitions on their own without calling in special teams.
The Pentagon withheld information on the finds, including data on the number of warheads discovered, from the public and from Congress, the paper reported.
Many of the old caches of chemical weapons were discovered around the ruins of the Muthanna State Establishment, described as the centre of Iraqi chemical weapons production in the 1980s.
Since June, the compound has been under the control of the Islamic State militant group.