Oklahoma seeks to delay three executions until 2015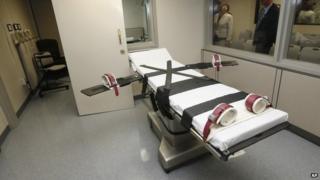 The attorney general of the US state of Oklahoma is seeking to delay three executions, claiming more time is needed to obtain necessary drugs.
Attorney General Scott Pruitt filed the notice on Friday requesting a delay until 2015 as the state trains staff on new lethal injection protocols.
Earlier this month, the state unveiled a larger, remodelled death chamber.
It was rebuilt after an April execution went awry when executioners failed to inject the lethal drugs properly.
"The additional requested time for all three executions will allow (the Oklahoma Department of Corrections) sufficient time in which to obtain the necessary drugs and medical personnel and to fully and thoroughly train each member of the new execution team," Mr Pruitt wrote.
"The state does not want to rush implementation of this new training program, especially so soon after revision of the execution protocol."
Mr Pruitt requested the executions of Richard Eugene Glossip, John Marion Grant and Charles Warner be rescheduled for no earlier than 15 January.
The Oklahoma official added the state does not currently have the drugs necessary to perform the execution of inmate Charles Warner, slated for 13 November.
In recent years, US states have found it difficult to obtain drugs previously used for lethal injections because of an embargo by European pharmaceutical firms.
Warner's execution was initially scheduled 29 April, the same day convicted murderer Clayton Lockett writhed for nearly an hour as an execution team struggled to find suitable veins in his arms, legs, neck and feet.
They ultimately attempted to inject the drugs into a vein in his groin but that failed, dispersing the powerful sedative into his tissue rather than directing it into his bloodstream.
The execution was halted when the error was discovered. Lockett died shortly after of a heart attack.
The incident prompted the state to re-evaluate its procedures and revamp its death chamber at the Oklahoma State Penitentiary in McAlester at a cost of $71,000 (£44,000).
It features more space for the executioners to work and new audio and video equipment.