Ebola hospital defends patient's care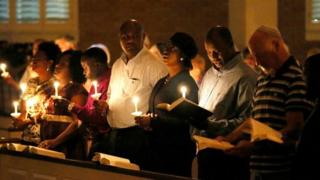 The Texas hospital that treated Ebola victim Eric Duncan has said his nationality had no bearing on the care he received before his death.
Some of his relatives have said he did not get as good treatment as other people because he was Liberian.
But a hospital statement said he received "the same high level of attention and care... regardless of nationality or ability to pay".
The death toll from the virus has now topped 4,000, mostly in West Africa.
Chris Dye from the World Health Organization (WHO) said Ebola was now entrenched in the capitals of the worst-affected states - Guinea, Liberia and Sierra Leone.
Duncan travelled from one of those countries, Liberia, to visit relatives in the US.
After feeling unwell a few days later, he was initially sent home with antibiotics from Texas Health Presbyterian Hospital in Dallas.
The Associated Press news agency on Friday said it had received hospital records that indicated he was running a 103F (39C) temperature at the time.
Four days later, he was admitted and kept in isolation but his condition worsened.
Youngor Jallah, the daughter of Duncan's girlfriend, said he was treated differently because he was African and lacked health insurance.
It was a point repeated by civil rights campaigner Jesse Jackson, who comforted Duncan's family when his condition worsened.
Three white American aid workers who contracted the deadly virus in West Africa have since recovered after treatment in Atlanta and Omaha, Nebraska.
But the experimental drugs they received were no longer available when Mr Duncan was being treated.
He received other untested drugs but they could not save his life.
"We'd like to correct some misconceptions that have been reported about Mr. Duncan's first visit," the hospital said in an emailed statement.
"Our care team provided Mr Duncan with the same high level of attention and care that would be given any patient, regardless of nationality or ability to pay for care.
"In this case, that included a four-hour evaluation and numerous tests. We have a long history of treating a multicultural community in this area."
The Dallas mayor, Mike Rawlings, also denied race was a factor, in an interview with the Huffington Post.
Six US military planes arrived in Liberia on Thursday, increasing the American military presence from 200 to 300 people.